Jonas Brothers' 'Sucker' Video: 9 Behind-The-Scenes Secrets From Director Anthony Mandler
He talks bondage, family portraits, and more epic moments from the vid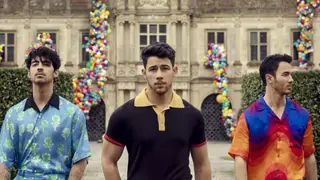 After spending the early-aughts collaborating with everyone from Rihanna and Taylor Swift to Jay-Z and Drake, director Anthony Mandler had been in music video retirement. But when he got a call from Roc Nation about helming a video for the newly reunited Jonas Brothers — the band's first one in six years — it was enough to get the veteran fantasist back in action.
"It was about helping reimagine this polarizing group with this great new music, and following the evolution of them as boys to men, essentially. It was exciting," Mandler told MTV News over the phone.
The brothers approached him with a rough concept in mind: They wanted to do a video with their significant others, and they wanted it to have a Wes Anderson vibe. "They gave me the basis and foundation to work with," Mandler explained, "and then I just sort of ramped it up and turned it into full-blown chaos."
The resulting visual feast for "Sucker" is a peppy, vibrant affair that reintroduces Jonas Brothers in spectacular fashion. Below, Mandler tells us nine behind-the-scenes secrets from their epic comeback vid.
The Hatfield House was as lavish as it looked
"Once we figured out we were going to be in London, we started looking for the biggest house we could find and the most over-the-top place," Mandler said about filming at the grand country estate, which was also the setting for 2018's The Favourite. It proved the perfect backdrop for the JoBros' high-fashion debauchery, even if shooting there required careful footing.
"It's overwhelming, it really is," Mandler continued. "It's very, very dramatic, over-the-top, like something from another age and era come to life. You have $200 million of art in one room. So it's a little worrisome at times, but every frame looks beautiful."
The bros and their girls had chemistry to boot
"You learn a lot about people's relationships very quickly," Mandler said about filming with the real-life couples. "And what I learned was that these three couples have great relationships. They just have a lot of fun together and as a group. They absolutely love being playful and not taking themselves too seriously. All of the attention that the world puts on famous people sort of disappears when you have good people who love being around each other. And that's what you really feel, is a lot of love and a lot of that energy."
The director added that his favorite scenes to shoot were the vignettes of each couple: Priyanka stripping for Nick, the "cat-and-mouse" dynamic between Danielle and Kevin, and the bondage scene with Sophie and Joe. Which brings us to...
Joe really was all tied up
"Full, Japanese-style, erotic bondage," Mandler described the scene, which involved a tied-up Joe hanging from the ceiling as his fiancée watched with devilish amusement. He was up there for "probably 25, 30 minutes — enough to leave the marks," the director added. "There's a playfulness between the two of them that I thought would be nice and unexpected."
Dogs and bunnies weren't the only animals originally intended for the vid
"Sucker" features the girls surrounded by bunnies and Danielle walking a pack of corgis, but the original treatment also included camels. "We had two camels we were going to use," Mandler revealed. "We just wanted to mix the exotic into it, but it didn't work out because of the weather."
The family that bathes together, stays together
Speaking about those memorable outdoor bath scenes, Mandler said, "I wanted to do this idea of six people living like one big family and this sort of funny take on something that's very common and traditional: taking a bath. And then we found these royal gardens and we decided we should do it out there." It was a cold day, he admitted, but don't worry: "The baths were hot!"
Kevin knows his way around a sword
The oldest JoBro is a man of many talents, as he proved in the fencing scene. "That was him. He fenced in high school," Mandler dished. "We had some stand-ins, but he said he wanted to do it."
Nick really did work out on set
The zany styles worn by the three women were something to behold — the director says they aimed for "haute couture, over-the-top fashion, completely ridiculous, as far as we can go." And even though the guys' looks were a little less dramatic, they still tried to keep themselves looking sharp — which is perhaps why Nick was doing push-ups between scenes. "Ah, people like to look good when they're wearing sleeveless shirts," Mandler laughed. "Why not?!"
It was something of a miracle that nothing leaked from the set
The band's reunion is already one of the biggest pop culture moments of the year, and maintaining a level of privacy and secrecy while shooting the "Sucker" video was a monumental task.
"We did it very quickly," Mandler said about the project's tight turnaround. "We shot it two and a half weeks ago and we were behind a lot of barriers and walls. Either way, I thought for sure that we were going to get photo leaks, but it didn't happen. I was very surprised, to be fair. I'd seen drones and helicopters and tall ladders and anything you could imagine, and I really was surprised that nothing came out. We got lucky, I guess."
That portrait in the final scene actually exists
The guys snuck one of their old album covers into the video as a little easter egg — they shared a peek of it on Instagram — and that inspired the final scene, in which the three couples pose for a new pic.
"We wanted to recreate a new family portrait, which is what you see at the end," Mandler explained. "And sort of in response to that, they threw out the idea about doing an old family portrait, like a previous record cover portrait."
Mandler added that the in-progress portrait was an actual painting they had done, but he doesn't know where the finished piece of art is. "I don't know. It's in their archives, I assume," he said. Here's hoping the guys share a look at it one day!