Nicki Minaj Was A Fierce Warrior Queen During Her VMA Performance Of 'Barbie Dreams'
"Put my blood, sweat and tears in perfectin' my craft"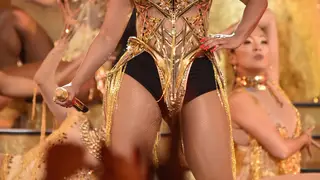 Nicki Minaj's musical reign continues at the 2018 MTV Video Music Awards. Rap's resident royal lady performed a Queen medley at the Oculus in New York City. For a moment, Nicki looked over her kingdom and soaked up the adoration framed by two glittery unicorns. Rightfully, "Majesty" began the show, with Minaj proclaiming that she had "the money and the power now."
"Me knowing that I'm that strong that I don't have to fit in with trends. You know? And I will never do it. That's kind of like the reason I wanted to do 'Barbie Dreams,' as an ode to Biggie and, like, 50 [Cent's] 'How to Rob.' This album, to me, is not about being bumped nowhere. This is about art form. I put in the work."
Before the performance ended, the Queens rapper crouched and spit the second verse of "Ganja Burn" a cappella as a statement of purpose. She made sure to punctuate each bar when she got to the lines, "At least I can say I wrote every rap I spit / Put my blood, sweat and tears in perfectin' my craft."