Father Figure: Here's Proof That Jeremiah Has Become The Unofficial 'Floribama' House Dad
One exception: He doesn't have a dad bod (to say the least)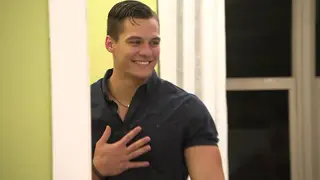 It wouldn't be MTV Floribama Shore if things didn't get a little a lot cray cray on the regular. In a much-needed bid to help keep the peace in PCB, one roommate in particular has taken on the role of a father figure -- whether the other housemates like it or not.
And yes, we're talking about Jeremiah, the Jacksonville native who has some major morals and a few fatherly qualities to match his oversized biceps (no dad bod here).
While the other roommates are stirring up trouble in dive bars and embarking on a 24/7 hunch hunt, he can frequently be found on the sidelines, looking out for his friends. An example: The show's latest episode saw Jeremiah being fiercely protective over Kortni, who found herself on the outs with her man.
"Logan is nothing but trouble," he said of Kort's boyfriend. "No guy should be talking to one of my sisters like that."
But that's not all -- read on for a few other ways Jeremiah has made a name for himself as the ol' man of the house:
He doles out 'dad jokes' and 'dad talks' like protein shakes.
From unsolicited advice for his roomies to the occasional corny dad joke, Jeremiah has perfected the art of the oft-annoying dad.
He doesn't hesitate to take care of his roommates.
Jer immediately stayed behind to tend to Gus, who was puking his brains out after a few too many tequila shots.
He has mad dad dance moves.
Codi may be the twerk master, but Jeremiah has some cheesy moves down pat.
He's the house grill master.
If Jeremiah isn't at the gym getting his swole on, he can be found grilling chicken for Kirk or even cleaning up the kitchen.
He often plays peacemaker.
Whether he's calming Gus down or keeping Kirk from throwing crackers, Jeremiah is often working double time to keep his housemates out of trouble (and handcuffs).
He has a cheesy 'dad' wardrobe.
It's a good thing the Floribama Shore folks aren't teenagers, because they might otherwise be embarrassed to be seen next to J rocking head-to-toe flamingo prints -- or one of Gus' back thongs, for that matter.
For more of Jeremiah in dad mode, catch MTV Floribama Shore every Monday at 10/9c!