At KAMP LA, Fans And Artists Found Their Own Silver Lining
The inaugural K-pop festival weathered headliner visa issues and rainfall to deliver an ultimately uplifting experience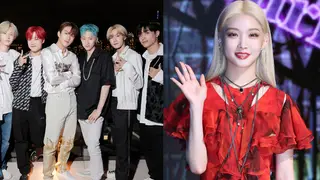 When organizers at South Korean entertainment company KAMP Global announced in August that they were bringing a star-studded K-pop festival stateside, it almost seemed too good to be true. However, upon revealing KAMP LA's lineup, confirming a diverse array of A-level talent such as Taeyeon, Monsta X, Kai, Momoland, BamBam, and more, the mega-concert that looked like a K-pop stan's fantasy became real. With fans around the country flocking to the Golden State, KAMP LA 2022 took over Pasadena's Rose Bowl stadium from October 15–16 for two days of energetic performances, comeback teasers, and community building. However, an update from organizers ahead of any of the performers even taking the stage threatened to upend the excitement before it even began.
On the morning of October 14, soloists BamBam and Jeon Somi had posted cryptic messages to social media implying that they had been unable to fly, and fan accounts circulated reports of other artists running into similar issues at the airport. After nearly 24 hours of uncertainty, it was revealed through an official statement that due to "unforeseen U.S. work visa issues and circumstances outside of the artists' and promoters' control," artists BamBam, Jeon Somi, Kai, Lapillus, Taeyeon, and Zion.T would no longer be performing at KAMP LA. A separate statement published the following evening confirmed Monsta X would also not attend.
As a result, nearly half of the 15 scheduled acts were unable to perform, and full or partial refunds were offered to ticket holders. The stadium would no longer be filled to capacity as previously expected.
However, despite the unexpected alterations, the show went on and eventually found its silver lining — the artists themselves. The previously gloomy atmosphere swiftly turned electric as soon as the music started on Saturday, with the fans in attendance hyping up as the nights went on. Each performer, ranging from newcomers like T1419 and Aespa to seasoned idols like Super Junior and Epik High, brought a level of energy, charisma, and professionalism that can only be attributed to K-pop artists who were trained, against all odds, to always shine. And under the unusually gray skies of L.A., shine they did.
P1Harmony
Opening a festival in broad daylight to an uncertain crowd is unimaginably difficult. However, with nearly two years of experience under their belt, the six members of P1Harmony stormed onto the stage with a powerful rendition of their latest single "Doom Du Doom," a pop-rock track perfect for a stadium performance.
As they transitioned into "Do It Like This," the group's most popular song, the negative energy began to dissipate, resulting in the group's leader, Keeho, thanking fans for "coming out regardless of everything." The crowd got to witness the members debuting their new hair colors for the first time, which typically signals the start of a new musical era for K-pop artists. "You know what this means, right guys?" Keeho teased. "We might have new stuff coming out. I don't know though," he says with a laugh. P1 ended their set with the explosive "Follow Me" and encouraged each other with a pat on the back as they exited the stage.
TFN
TFN, formerly known as T1419 (as of October 16), were the youngest group on KAMP's lineup, having only debuted in 2021. Due to the cancellations, most of which affected the Saturday show, the rookie group performed both days. Though their first set began shakily, with a technical difficulty forcing the group to leave the stage and awkwardly restart, the young artists courageously stormed on. "Exit," a single off 2021's Before Sunrise Part. 2, began their set. Entertaining the crowd with various fan interactions, including vocalist Sian's rendition of BTS Jimin's "Serendipity" and an early birthday singalong for member On. Day two found TFN performing to a much larger crowd, sans any technical issues. This time, they kicked off with the emotionally charged "Run Up" to positive reinforcement from the audience. They returned this energy during numbers such as "Asurbalbalta" and "Flex," as they reached down to grab phones, shake hands, and pose for photos.
Momoland
Saturday began to turn around when the festival's first girl group, Momoland, immediately brought a burst of vitality. Though they had just arrived from Seoul that morning, they conquered the jet lag and fueled their set with bubbly performances of hits "Baam" and "Thumbs Up." "There's so many artists who didn't get to come, but we're here to try to hype it up," Nancy said. "Thank you for still supporting us. This is what K-pop's all about." As the girls made their way to the B-stage to perform their English singles "Wrap Me in Plastic" and "Yummy Yummy Love," they embraced an unexpected influx of rain, despite slipping and sliding in their boots. Nancy jokingly pointed out that her recently dyed red hair had started dripping.
Day two found both the crowd near the main stage and the fans near the extended stage fighting for the group's affection, despite missing the group's lead vocalist, Ahin, due to illness. Festival attendee Ricardo Garcia told MTV News that seeing Momoland was one of the reasons he still wanted to catch the event, despite missing out on fan favorites like Taeyeon and BamBam. "They honestly carried the show," he said. "And K-pop groups like them don't come here for tours that often. Supporting them after they made the trip here is important."
iKon
Sparking viral moments with each new performance, iKon stole the hearts of every day-one festival-goer with their magnetic stage presence and high-voltage performance style. The group arrived on stage as the sun set, and the stadium was filled with a sudden influx of bright red "KonBat" light sticks for their explosive opening number, "Sinosijak."  By the time their set approached the beloved track "Love Scenario," the entire audience was hooked, captivated by the artists' every move. iKon's fan service is bar none: Yunhyeong jumped off stage to approach the barricade, Bobby started chants, and Chanwoo tossed his water onto the crowd during "B-day." The group makes fans feel like they're part of the show, rather than just spectators, and the crowd begged for one more song after the emotional, synth-heavy closer "But You." You could have walked into the show loving any other artist, but you most definitely walked out an iKonic.
Super Junior
Having debuted in 2005, Super Junior are K-pop royalty, an iconic group from the genre's second generation. During Saturday's headlining set, the skies lit up with blue Super Wands. The veterans opened with "The Crown" before transitioning flawlessly between two of their most popular hits, "2YA2YAO!" and "Black Suit," as well as newer tracks like "Don't Wait" and "Mango." The members of Super Junior displayed a level of confidence and ownership that can only belong to longtime idols. The night ended with a sweet birthday celebration for member Donghae, whose two mixed-up cakes accidentally displayed his name as "HD," and a performance of their greatest hit, 2009's "Sorry Sorry." Fans around the stadium pantomimed the choreography perfectly in sync. Their performance showcased the group up to a whole new generation of potential Elfs, many of whom likely spent the rest of their night searching "SuJu Leeteuk fancam" on TikTok.
Chung Ha
It's quite fitting that Chung Ha's latest single is titled "Sparkling," as she genuinely glimmers on stage. The only soloist to perform, she floated onto the stage, dressed in an ivory three-piece set and sporting newly auburn hair, accompanied by a handful of background dancers in matching black looks. She performed her most popular tracks, including "Snapping" and "Roller Coaster," as well as deep cuts like "California Dream" from her last project, Bare and Rare Pt. 1. ("I couldn't skip this song while I'm here," she said.)
According to fan Albert Lay, Chung Ha's performance was one of the main reasons he kept his Sunday ticket, despite taking the refund the day prior. "After I saw the cancellations, I was honestly pretty bummed, but I knew I had other artists I wanted to see," he said. "Artists like her have been the saving grace." Before ending her set swiftly with fan-favorite "Gotta Go," Chung Ha performed the unreleased track "Love Without You" off her upcoming album Bare and Rare Pt. 2. Though the release has been indefinitely postponed, the idol promised fans that "it's coming really soon."
Epik High
Fans were just as excited to witness Epik High's performance as they were to find out what member Tablo would say onstage: The night before their set, he cheekily tweeted a zipper-mouth emoji. After hyping up the crowd with "No Thanxxx" and "Burj Khalifa," Tablo grabbed hold of the microphone after multiple audience chants to "spill the tea." "There are times in your life where you don't always get what you want and it breaks your heart. But I'm sure none of you know what I'm talking about," he said sarcastically. The audience erupted with laughter. "I am sure none of you experienced even a little bit of that this weekend." Despite it all, he reminded fans that they were there to have a good time. Then, the group brought the party with back-to-back performances of "One" and "New Beautiful" on the extended stage.
Just before Epik High closed out their set with the rock-inspired "Don't Hate Me," Tablo addressed the crowd one last time. "These last two nights will be remembered. I'm just saying, if ever there is a Netflix show or a Hulu show, I want to be in it," he said. His bandmates Mithra Jin and DJ Tukutz meanwhile jokingly begged him to stop talking. As the first to address the elephant in the stadium, the group comforted the audience through humor alongside excessive water bombs, dramatic song transitions, and Tukutz's infamous K-pop idol dance.
Aespa
After KAMP LA lost Monsta X to visa issues, SM's newest it-girls became day two's headliners. One of the lineup's youngest acts, they were nonetheless one of the most sought-after performances of the weekend. They kicked off their set with their debut song "Black Mamba," then immediately transitioned into "Savage," causing an uproar of screams, cheers, and phone cameras. In trendy coordinated denim looks, the members looked like real-life avatars. Upon performing newer tracks like "Illusion" and "Girls," the girls closed out the weekend with the highly favored "Next Level," known for its illustrious signature choreography — you know the move.
For fan Lily Dabbs, Aespa made up for missing out on Taeyeon, the group's labelmate and member of sister group Girls' Generation. "I've been waiting almost 15 years to see Taeyeon, so not being able to see her, it was really heartbreaking," she said. "But a big reason the festival has still been so fun is because of the environment K-pop fans create at shows."
Despite the circumstances, the redeemable outcome of the festival at large reflects the attitude of the fans and underscores one of the K-pop community's best traits: resilience. It taught both fans and artists to focus on building solidarity and chasing joy wherever they can find it, even if they had to create it themselves. Tablo nodded to this during Epik High's set earlier in the night. "One day people will ask you where you were during KAMP 2022, and you can say you were there," he said with a laugh. "You lived through it."