New '13 Reasons Why' Photos Preview Chilling Season 2 Moments
Emotions look higher than ever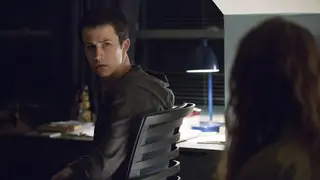 If you thought things at Liberty High would be toning down now that we've heard all of Hannah Baker's tapes, think again. After dropping an ominous Polaroid-filled teaser, Netflix has released the first stills from Season 2 of 13 Reasons Why — and they are intense.
As the Netflix synopsis describes, the second season will deal with the aftermath of Hannah's death as her family and friends begin their healing process. For the Bakers, that means taking the school to court — which also means the teen stars of the tapes will likely head to the trial as well. But there's one person who doesn't want that, and they'll go to great lengths to make sure their "sickening secret" isn't made public.
In the newly released photos, we get two glimpses of the courthouse scene with a stoic Olivia Baker (Kate Walsh) among a mob of reporters, and a heartbreaking Jessica Davis (Alisha Boe) taking the witness stand and holding up photos accusing her of being "a drunk" and a "slut."
There's also a tense shot of school counselor Mr. Porter (Derek Luke) pushing Bryce Walker (Justin Prentice) up against the wall — which probably has something to do with Mr. Porter's unchecked guilt over Hannah's death and Bryce's history of sexual assault.
Another harrowing snap shows Tony Padilla (Christian Navarro) crying into a new character's shoulder — Caleb, played by RJ Brown — after the rear window of his beloved car was smashed.
There is one constant through the chaos: Clay Jensen (Dylan Minnette) can still flash a quietly inquisitive look better than anyone.
Season 2 of 13 Reasons Why premieres May 18 on Netflix.