To The Moon: Get To Know The 2022 VMA Best New Artist Nominees
From Latto to Baby Keem, here are the six rising stars up for this year's award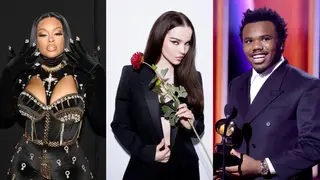 The 2022 VMAs will be swinging by at the Garden State in just a few days, and excitement is in the air for one of the biggest questions of the night: Who will take home the Moon Person for Best New Artist?
Last year saw Olivia Rodrigo driving home with the award, and other recent winners have included such heavy hitters as Doja Cat, Billie Eilish, and Cardi B. This year's nominees list is filled with stars like Gayle, whose angry break-up pop rock hit "ABCDEFU" went viral on TikTok, and Latto, who saw her highest-charting song, "Big Energy," reach No. 3 on the Billboard Hot 100 in 2021. But that's only scratching the surface. Scroll down below to get to know all the 2022 Best New Artist nominees ahead of the show on Sunday, August 28, and find the full list of nominees right here.
He might be Kendrick Lamar's cousin, but Baby Keem has been able to make a name of his own since his 2019 breakout single "Orange Soda." He's since gone on to "Praise God" and collaborate with the legendary Ye, and he dropped his self-produced first studio album, The Melodic Blue, last September. It peaked at No. 5 on the Billboard Hot 100. But he keeps family close: He and his cousin paired up to discuss numerous topics ranging from their own upbringings to betrayal on their synthetic hip-hop track "Range Brothers."
Dove Cameron has already shown her musical talents during her days working with Disney and in NBC's Hairspray Live! in 2017, which earned her an ensemble nomination for Best Musical Moment at the 2017 MTV Movie & TV Awards.  But since signing with Columbia's Disruptor Records, the singer-actress has been expanding her music career. Her certified gold track "Boyfriend," a queer love song about wanting to treat her love interest better than her crush's boyfriend, hit No. 16 on the Billboard Hot 100 earlier this year. Currently, she is working on her upcoming debut studio album – and eating boys for "Breakfast" on her most recent single.
After being discovered by former American Idol judge Kara DioGuardi, leading her to sign with Atlantic Records, Gayle and her penchant for carrying a viral breakup anthem found legions of fans thanks to TikTok" Her pop-rock track "ABCDEFU" hit No. 3 on the Billboard Hot 100 and No. 1 on the Global 200 and in several countries, including the United Kingdom, Ireland, Germany, Malaysia, and more. The success has been followed with the release of an EP, A Study of the Human Experience Volume One, in March 2022, and a second volume is expected to drop on October 7.
Back in 2019, Latto achieved a seminal moment with her debut single "Bitch from da Souf," and rappers Saweetie and Trina joined in for the remix. After signing with RCA Records, she collaborated with Gucci Mane on her follow-up single "Muwop" for her 2020 debut studio album, Queen of da Souf. The next year, Latto went even bigger on "Big Energy," peaking at No. 3 on the Billboard Hot 100. Her breakthrough successes have led to plenty of accolades — and a VMA for Best New Artist would be another big one.
Eurovision fans first fell in love with the Italian glam-rock band in 2021, when their rebel song "Zitti E Buoni" took the competition by storm.  And Måneskin kept the party going, achieving global recognition with their cover of The Four Seasons's "Beggin," which went viral on TikTok and reached the No. 1 charts in several countries. They're also set to bring their single "Supermodel" to the VMA stage. It's been some time since guitar music was so universally embraced across the world — but if anyone can inspire nations working together for a common cause, it looks like Måneskin can.
South Korean boy band Seventeen is known for being heavily involved in self-producing the majority of their work, especially in songwriting, choreography, and performing. Back in 2015, when they debuted with their EP 17 Carat, it became the longest-charting K-pop album of the year in the U.S. Dubbed "Performance Kings" and the "K-Pop Performance Powerhouse" by Korean outlets, they went on to produce four studio albums and 12 EPs, and released their most recent studio album, Face the Sun, in May 2022 and a repackaged version of the album Sector 17 in July. They also became the first-ever K-pop act to land an MTV PUSH feature back in 2021. These performance kings are hoping to add yet another milestone to their impressive résumé, and a Best New Artist win would be just that.