Big Wins Beyond The Presidency: Meet The Trailblazing Women Elected To Congress
AOC is back in the House, Sarah McBride becomes the first trans state senator, and more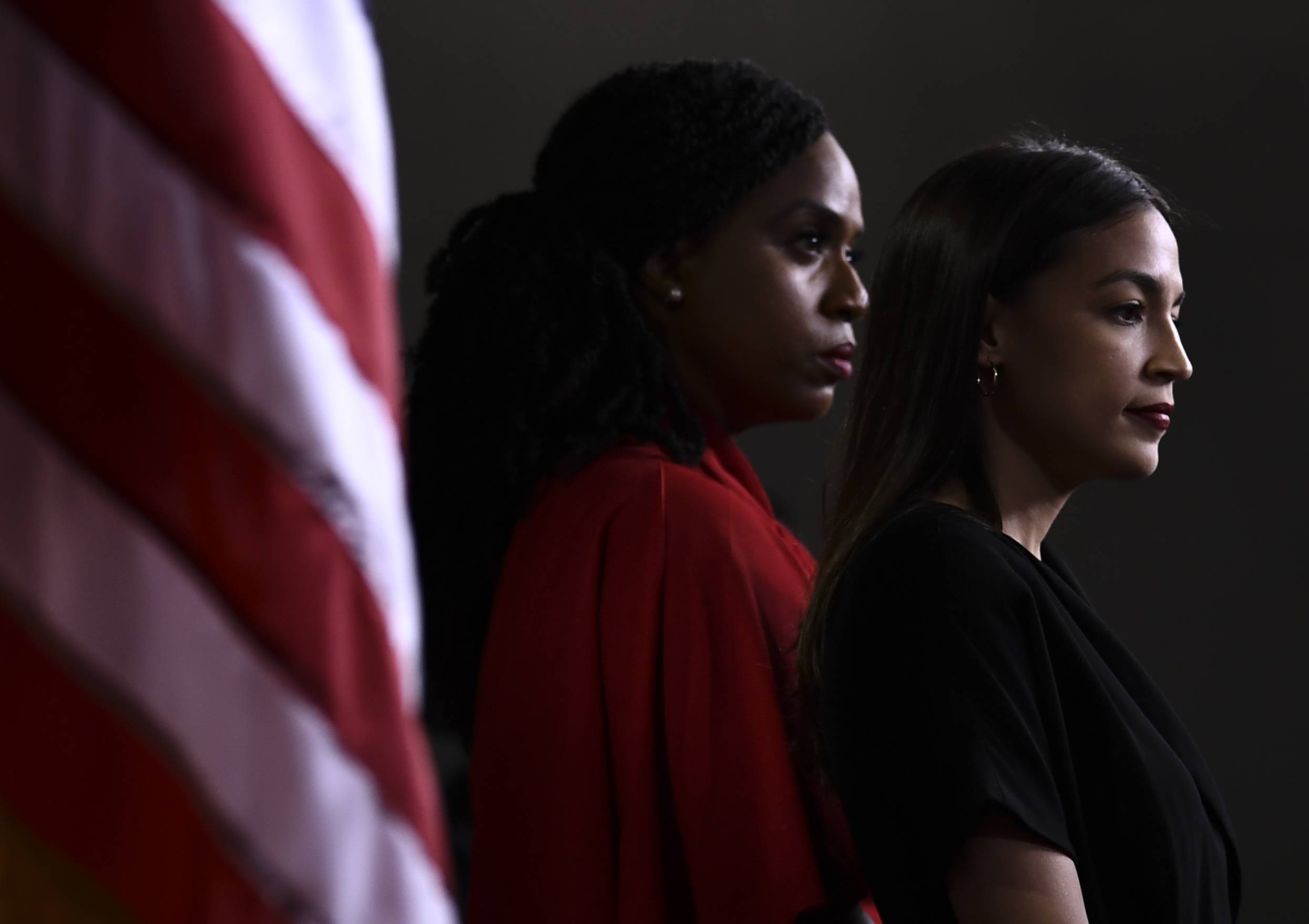 There is still a long way to go until the 2020 presidential election is decided. Both candidates are up against tight margins as of this writing, trading victories in key battleground states. President Donald Trump took Florida on election night, but former Vice President Joe Biden flipped Arizona, a formerly Republican-leaning state, and took Wisconsin the following morning. It's tense, to be sure, and in moments of stress, it might be helpful to remember the silver linings.
This Election Day proved the importance of down-ballot races, with many forward-thinking and diverse candidates making history with victories at the state level. For example, more than 570 LGBTQ+ candidates appeared on the ballot this year, according to the Victory Fund, and many secured their seats on Tuesday in the growing "rainbow wave" that's sweeping legislatures around the nation. And more progressive women, in particular, will be heading to Congress, part of a growing movement that started in 2018, when over 100 women were voted into the House of Representatives.
These are the ladies we have chosen to represent us, and it will be up to them to hold whoever is elected to the Oval Office accountable. So as we wait for every vote to be counted, discover some of the big wins beyond the presidency.
THE RETURNING CHAMPS[listicle]
AOC is in the House — again! The red-lipped representative from the Bronx made waves when, at 29 years old, she became the youngest woman to be elected to the United States House of Representatives. Her embrace of democratic socialism and progressive policies have shifted the discourse in Washington, as well as made her the target of repeated, misogynistic vitriol from Republican leaders. "Serving NY-14 and fighting for working class families in Congress has been the greatest honor, privilege, & responsibility of my life," she wrote on Twitter. "Thank you to the Bronx & Queens for re-electing me to the House despite the millions spent against us, & trusting me to represent you once more."
Democratic representative Brianna Titone became Colorado's first trans lawmaker when she was elected in 2018. The scientist will keep her seat, winning reelection in spite of a series of transphobic ads that attempted to harm her campaign.
Representative Ilhan Omar is a Somali-American refugee who became the first Black Muslim woman elected to Congress in 2018. She beat out Republican Lacy Johnson despite her opponent's significant fundraising efforts and will hold onto her seat in the Minnesota House. "We are building a movement that sees my struggle as inherently tied to your struggle, and sees a world where all workers can be uplifted. Together," Omar wrote on Twitter after her win. "Today's vote - the results of this election - are not the end. This is just the beginning."
A member of the Wisconsin-based Ho-Chunk Nation, Representative Sharice Davids became one of the first two Indigenous women elected to Congress when she won in 2018, as well as the first openly gay congresswoman to represent her state. She ran uncontested in her bid for reelection.
Ayanna Pressley became the first Black woman to represent Massachussetts in the House of Representatives in 2018. A proponent of defunding the police and Medicare-for-all, she ran unopposed in the November election. "Thank you all," she wrote on Twitter on Wednesday. "This alopecian queen is returning to Congress with a mandate from the people to continue the Work of equity & justice."
In Delaware, veteran LGBTQ+ activist and national press secretary for the Human Rights Campaign Sarah McBride became the first transgender person to be elected to a state Senate. But she isn't interested in making history. "At the end of the day, this can't be about making headlines," she told MTV News in 2019. "It's got to be about making a difference in our community."
A former high school teacher from Wichita, Kansas, Stephanie Byers became the first trans, Indigenous American to be elected to a state legislature on Tuesday. She also is the first trans individual to hold a state office in Kansas, according to the Advocate. "I'm a parent, I'm the grandparent, and I know the challenges that families face at this time," Byers told NBC News, "and that's who I want to be a voice for — for those families that need somebody who stands up for them."
Cori Bush was elected to be the first Black woman to represent Missouri's first district in Congress. A nurse and single mother of two, Bush rose to prominence as a Black Lives Matter activist who organized protests in response to the killing of Mike Brown at the hands of Ferguson police in 2014. "I'm taking my own lived experience to Congress, and what so many people in my community have gone through where they have felt, you know, neglected, under-represented, just not heard," she told Good Morning America. "I'm not going to stop being an activist just because I'll be in Congress."