Meet The New 'Teen Mom: Young And Pregnant' Cast Members
Madisen and Kayla J will make their debut on September 7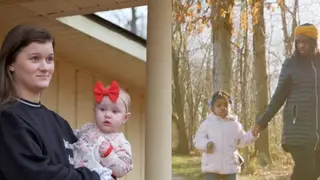 Brianna, Kayla, Rachel and Kiaya have experience being young and pregnant and then a teen mom. And when Teen Mom: Young and Pregnant returns on September 7 -- right after the premiere of Teen Mom OG -- the foursome will have brand-new company. Two new cast members -- Madisen and Kayla J -- will be a part of the MTV series.
"I'm seventeen -- I still need help," new mom Madisen (who appeared on 16 and Pregnant) tells her father Nick in the look at the series, above.
Get to know more about Kayla J and Madisen below, and do not miss the return of Teen Mom: Young and Pregnant on Tuesday, September 7 at 9/8c (right after the debut of Teen Mom OG at 8/7c).
Kayla J is struggling to deal with her on and off relationship with her best friend and child's father, Makel. While she understands why he needs to "do him" right now and date other people, she becomes enraged when Makel keeps bringing new girlfriends around their daughter, Mecca. Kayla attempts to lay down the law, causing a bitter "he said, she said" battle. Can they come to the table for Mecca's sake, or is Kayla's hurt over Makel's lack of communication and ending their relationship too much for her to handle?
Despite trying to make things work with her daughter's dad Christien, Madisen's first year of parenthood wasn't what she expected. With the support of her father Nick, Madisen is committed to making it happen on her own, and new beginnings may be on the horizon.