Hugging It Out: 'Teen Mom 2''s Kailyn And Jo Had All The Feels After Court Date
Who would have thought?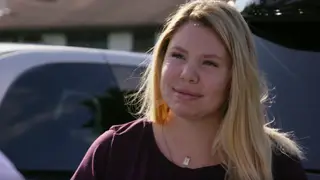 Situations may be complicated for Kailyn with both Lincoln's dad Javi and Lux's dad Chris, but she and Jo -- the father of her oldest son Isaac -- are making strides. On tonight's Teen Mom 2, the former couple hit a major milestone in their custody arrangement -- walking out of court on a high note for the first time ever.
What unfolded? Kail and Jo met with a mediator to revisit their 50-50 agreement for Isaac, a filing Jo made a few months ago while Kailyn was still pregnant.
Fortunately, both parties left the courtroom pretty content, with Kail agreeing to keep their "shared placement" deal -- that's Delaware legal jargon for 50-50 custody -- if Jo pulled his weight and helped out more with taking Isaac to and from his after-school activities.
Then, Jo surprised his ex by going in for a hug, and Kail obliged for the first time ever.
"I feel like every time we go to court, afterwards I try to give you a hug and it just doesn't work out -- but I'm happy it did this time," he said.
"You're so dramatic," Kail laughed. "This is the only time we've gone into court and been civil when we walk out!"
Isaac's parents also agreed that they can communicate about their issues themselves without going through their lawyers next time.
"Let's sit down and talk about it. We should talk about the rules and see if there's anything you want to adjust," Jo added. "It's simple stuff -- that's why I was trying to talk to you before. I know you were pregnant and emotional… but I was always open to [talking it out]."
And though the mom of three wasn't thrilled that the arrangement essentially stayed the same -- "I just feel like I've always had a majority of custody and so no mom wants to give up more time," she told pal Bone -- she seemed relieved that her main issue with Jo was their lack of communication, not that they disagreed over custody.
"He lets me have Isaac on days that are his, and if he asks me for Isaac on days that are mine, we are fine," she added. "We could've did this outside of court, but I was just so emotional. You filed this when I was six months pregnant and you wanted me to sit down and talk to you about it when I had raging hormones? It just wasn't the time."
Luckily the time is now! What do you think of Kailyn and Jo making strides after all they've been through? Will their communication improve moving forward? Tell us what you're thinking, and keep watching Teen Mom 2 Mondays at 9/8c.