Wonho's Tearful Return, Orville Peck And Shania Twain's Legendary Collab, And More Songs We Love
Plus, some solid advice from Victoria Monét and a female-first celebration by Cardi B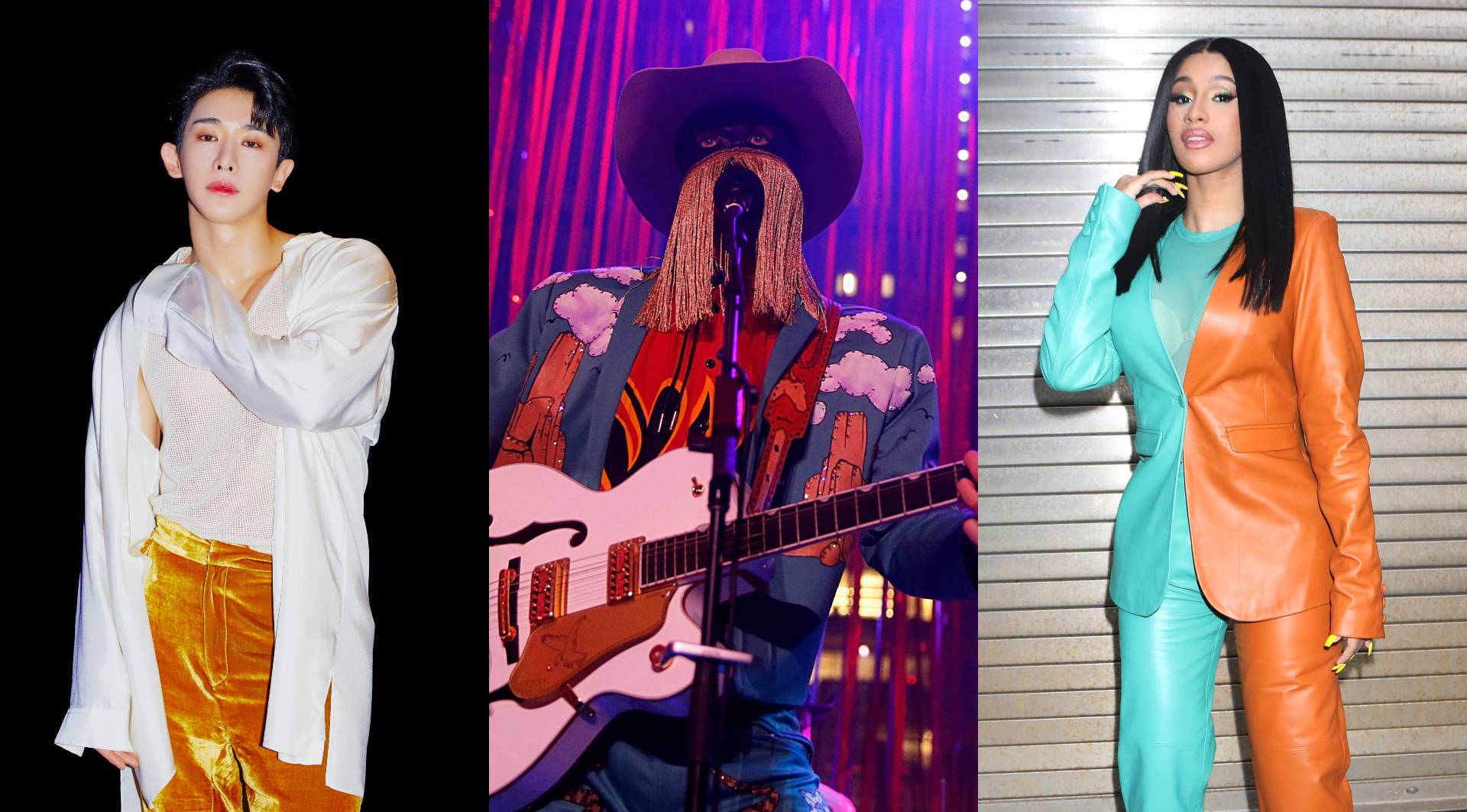 The search for the ever-elusive "bop" is difficult. Playlists and streaming-service recommendations can only do so much. They often leave a lingering question: Are these songs really good, or are they just new?
Enter Bop Shop, a hand-picked selection of songs from the MTV News team. This weekly collection doesn't discriminate by genre and can include anything — it's a snapshot of what's on our minds and what sounds good. We'll keep it fresh with the latest music, but expect a few oldies (but goodies) every once in a while, too. Get ready: The Bop Shop is now open for business.
The latest cut from rising singer Cailin Russo is called "High," and its musicality complements the adjective. She says it's about wandering through a house party, yet her glacial recitation of the title feels more like riding a cloud. Thanks to some Tame Impala-style drums and a rainbow of synths, "High" is a quick little escape hatch. But pull the cord wisely; it's addictive. —Patrick Hosken
Alex Porat: "Never Say ILY Again"
Toronto singer-songwriter Alex Porat was absolutely crushed by a bad breakup, but you'd never be able to tell by the sound of her bouncing new single "Never Say ILY Again." She juxtaposes crisp and light pop with heavy confessions like "You crushed my confidence, my whole world" and "How am I supposed to trust anybody ever again?" But considering the come-up she's had since getting her start by posting covers on YouTube, we'd say she's no worse for the wear. Thank goodness, too, because she's got a lot more bops to give. —Carson Mlnarik
The Ivy: "It Was Always You"
The Ivy's debut EP We Move Faster at Night is a quietly confident coming of age, with the Oklahoma City trio lending earnest indie-pop synth to the midnight thoughts we consider on the road to becoming who we're meant to be. The record's softest moment, "It Was Always You," is a breezy ode to an old flame, where the pity of loss mingles with sweet nostalgia. "I fill my head with the song of a time long gone," the second verse confesses. Sometimes, growing up means keeping the memories and letting the rest go. —Terron Moore
The songwriter Starrah is as seasoned as she is shy. The A-list hitmaker behind some of the decade's biggest singles, including Camila Cabello's "Havana" and Megan Thee Stallion's "Savage Remix," she often avoids the camera, throwing up her palm in photographs to hide her face. But with her debut solo release, "How It Goes," Starrah finally takes the spotlight. This brief slice of polished production details a stormy love in highs and lows, with the singer fluctuating rapidly between passionate pleas ("Say you love me, love me") and calls for an end ("I don't do love, feel my heart, girl it's frozen"). It's a familiar introduction to an artist with so much to give. —Coco Romack
Victoria Monét's "Jaguar" isn't a song; it's a way of life. The Grammy-nominated singer-songwriter pairs her empowering, mantra-like lyrics with surrealist animated visuals courtesy of AOA, the same creative trio behind The Weeknd's "Blinding Lights." It's a little bit Lizzo, a little bit Black Panther. "There are many voices in the jungle," a silken-voiced Monét advises in the bridge, "but the clearest one will always be your own." Come for the experimental sound and lush aesthetics and stay for the solid advice. —Sam Manzella
Linkin Park: "She Couldn't"
In the 20 years since Hybrid Theory — still the biggest-selling debut LP of the 21st century — Linkin Park's influence is felt in the crunching pop of Halsey and Rina Sawayama as well as the arena-filling rock of Imagine Dragons. Fittingly, the mammoth album is getting an anniversary release in October, which includes "She Couldn't," a holdover from that era. Unlike the soul-scraping heaviness of radio hits "Crawling" and "Papercut," "She Couldn't" thrives in the low end, flexing the band's hip-hop influence as well as late singer Chester Bennington's incredible knack for finding the right spaces to fill. It sounds like 1999, which means it sounds like 2020, which means it sounds wonderful. —Patrick Hosken
Orville Peck ft. Shania Twain: "Legends Never Die"
Whose bed has Orville Peck's boots been under? Shania Twain's apparently. The two country music queens are gonna getcha good with their electric new duet, "Legends Never Die." This buzzy bite of country kitsch instantly transports you to the back room of a smoke-filled Nashville bar as the pair croon about the lonely live of legends who forge their own paths. This is a party for two we will be attending over and over again. It's a match made in country music heaven, so let's go, girls, because this song do impress me much! —Chris Rudolph
"Vibe" is a catch-all we tend to use when describing sounds, sights, and aesthetics that just feel good, but calling Nilo Blues's new video for "Nicotiana" anything else would not be fair. The Vietnamese-Chinese hip-hop artist hails from Canada, and his smooth, genre-blending stylings make for a hazy, dreamy listening experience. It's fitting then that his new single, from his self-titled debut EP out now, romanticizes what he calls his "toxic love story with nicotine" with a tinge of nostalgia. Its moody visual features no shortage of cloudy skies, solo drives, and yes, vibes. —Carson Mlnarik
Nana Adjoa: "I Want to Change"
In an accelerate age, when a song's opening seconds are treated like gaudy neon-ad signage, a song like Nana Adjoa's "I Want to Change" is downright subversive. A plucking string grounds the entire tune while the multi-instrumentalist and singer takes her time constructing a world around it, one involving more strings, jazzy drums, and examinations of identity. This one's worth the entire 4:40 runtime. —Patrick Hosken
Cardi B ft. Megan Thee Stallion: "WAP"
Leave it to Cardi B and Megan Thee Stallion to turn Frank Ski's Baltimore-Club classic "Whores In This House" on its head by sampling it in their sex-positive anthem "WAP." Double-standards be damned, "WAP" is about female pleasure, proudly owning it and providing it. It's demanding in all of the best ways, championing those who know what they want and aren't afraid to ask for it. Metaphors abound as the song balances praise of the female anatomy, with playful lines like "park that big mack truck right in this little garage." A sexual playbook," WAP" highlights that, in the game of pleasure, bragging rights and the roles of captain or coach aren't just reserved for those who physically qualify to have BDE. "WAP" is a vibe, an energy each of us should appreciate and has likely benefited from; you're here reading this, after all. —Virginia Lowman
Nearly a year after his departure from Monsta X, the vocalist Wonho's return as a solo artist is less reflective of the exuberant performer fans came to know but, rather, a tearful reintroduction. "Losing You," off his forthcoming debut mini-album, Love Synonym (#1): Right for Me, is a love song to his fans, who unwaveringly stuck by his side. The ballad expresses his deepest frustrations and fears — even after being cleared of drug charges in March, there was a time when Wenee thought we might never hear his serene voice again. "Losing You" depicts a man with a renewed sense of strength, who fought his way through seemingly endless adversity. It is a somber reflection as well as the start of a new chapter with limitless possibilities, "because losing me is better than losing you." —Daniel Head
Summer may be winding down and we may still be stuck inside, but Jamaican-born singer Sevana's breezy bop "Mango" paints a picture so lush and sweet your mouth will water, if only for three and a half minutes. "Mango" is a smart love song that toys with the link between food and sex, lacing desire and cultural staples through Jamaica's captivating rhythm and vernacular. Peppered with drums and R&B influence, the chorus "me love you like mango, better you give me some lovin'" bates the sensual mercury to rise, and for just a few minutes, summer 2020 is just as it should be. —Virginia Lowman