Chelsea Houska Is Pregnant With Third Child
Aubree and Watson are about to get another sibling!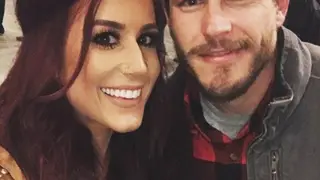 The Teen Mom 2 cast member and hubby Cole are expecting their second bundle of joy together (it's Chelsea's third child). The newest addition will join big sister Aubree and soon-to-be-middle-man Watson, who turned one in January. And it's a...GIRL!
"GUESS WHAT! A sweet baby girl will be joining the DeBoer clan in a few short months! We could not be more excited!" Chelsea captioned the Instagram image above of her bundle of joy. Cole shared the same photograph and added, "This proud dad is getting a new Bow and it's nailed my heart."
The MTV couple made it no secret that they would soon have more kiddos, even revealing plans to expand their brood following their wedding reception back in October 2017.
"I feel like we should wait until after [the reception] to have another baby," Chelsea told her husband during a recent TM2 scene, while he quipped that they could "make it through the reception."
They stayed true to their word -- and now a little lady is on the way!
"Aubree did such a great job keeping this a secret and she said at school on Monday she's gonna walk in and start yelling it down the hallways!" Chelsea revealed to MTV News. As for Cole, he is "very excited" and "talks to my belly every night."
"I'm ecstatic to have another princess under our roof," Cole told MTV News. "The men in this household are standing their ground even though we are now outnumbered."
Be sure to offer the DeBoer family your congrats, and stay with MTV News for more pregnancy updates!