Bop Shop: Songs From Halsey, Grimes, Ari Lennox, And More
A surprise country bop, a viral Mickey Mouse rap hit, and much more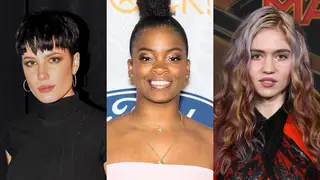 The search for the ever-elusive "bop" is difficult. Playlists and streaming-service recommendations can only do so much. They often leave a lingering question: Are these songs really good, or are they just new?
Enter Bop Shop, a hand-picked selection of songs from the MTV News team. This weekly collection doesn't discriminate by genre and can include anything — it's a snapshot of what's on our minds and what sounds good. We'll keep it fresh with the latest music, but expect a few oldies (but goodies) every once in a while, too. Get ready: The Bop Shop is now open for business.
Halsey: "You Should Be Sad"
Halsey surprised fans last week when she dipped her toes gently into country waters with "You Should Be Sad." The twangy bop is an unapologetic clap-back at her self-absorbed ex. "No, you're not half the man you think that you are," she punches on the pre-chorus. "And you can't fill the hole inside of you with money, drugs, and cars."
For the most part, she's sorry. Not for her ex, but for sticking around as long as she did and trying to put a "broken man" back together again: "I had no warning about who you are." In this case, she didn't miss the red flags; according to her, there were none. And now that the relationship has ended, she's grateful for the clarity that allowed her to get out and run "so fucking far." —Jordyn Tilchen
L.A.-based Moaning's 2018 self-titled debut was marked by heavy guitars and jittery post-punk drumming, but it wasn't without its hooks. On their newest single, the band leans away from their rock roots and delivers and soaring piece of angsty, melodic synth-pop about the urge to check your ego at the door. "I want to be anybody but myself," laments frontman Sean Solomon, but when you're able to make a track this fun, I'd say you're doing pretty good. The band's sophomore album, Uneasy Laughter, is out March 20. —Bob Marshall
When I heard "LA Trains," the first thing I thought was, "So, this is what the inside of Jae's brain sounds like." It would have been easy to imagine something less muted and more frenetic from the DAY6 guitarist known for his propensity for heavy guitar riffs and internet memes. But "LA Trains" is a glimpse into his more pensive side. "I'm stuck in this moment," he croons softly, strumming his guitar. "Cause it shines beautiful." But the 80-second track isn't one-note; it builds to something bigger and more atmospheric — like a dream that gets darker and weirder as it progresses. For this solo project, Jae (or, eaJ) embraces the quiet part of himself with a modern, moody lullaby for the tired minds who need it. —Crystal Bell
Orion Sun: "Ne Me Quitte Pas (Don't Leave Me)"
Sleepy and serene on the surface, this slice of lovely R&B pop from 23-year-old Orion Sun rumbles with life underneath. "It feels so good to know ya," she repeats, basking in a sunny, hazy melody. But lest I make the tune sound lethargic, remember the subtle drama of its parenthetical title, "Don't Leave Me." Those skyward harmonies just might start to sound like pleas. —Patrick Hosken
Dreamville ft. Ari Lennox: "Bussit"
It's time to put some respect on Ari Lennox's name. More respect, anyway. Her voice is milk and honey on a spoon in your mouth in a bathtub. Her songs are moisturized, soft, and powerful. "Bussit" comes from the new deluxe edition of Dreamville Records's Revenge of the Dreamers III and is all the proof that you need that, when it comes to sultry sex psalms, no one is in her realm.
As Lennox walks a partner through an X-rated night, she takes the lead, grabbing her partner's smooth hands and guiding them to the right spots. The night heats up, clothes come off, and the music grows louder. You can practically see the rose-petaled bed moving in waves and smell the chamomile candle wax in the air. —Trey Alston
We're 17 days into 2020, and if you're still riding that "new year, new me" mentality, then this is the bop for you. English singer Ella Eyre gives a sly third-person approach to her fresh slate, proclaiming, "Ella ain't here, it's the new me." Cue a string of quotable zingers about not putting up with some "killjoy" and their pesky bullshit. "I don't make time for your foolin' / Kinda got things to be doin'," she sings over a springy, tropical beat. It's a must-hear for fans of Mabel's "Don't Call Me Up" and Dua Lipa's "Don't Start Now" — all hail Brit-pop post-breakup bangers! —Madeline Roth
Surf Rock Is Dead: "Diabolik"
Surf rock may be dead, but dream pop is very much alive. And though the latter phrase doesn't have quite the same ring, it's on full display on "Diabolik," a motoring new cut from this Brooklyn duo. It's a lofty tune glimmering with watery guitars and beautiful sheiks, and its subject matter couldn't be more relatable. The pair say it's inspired by the perils of shared living in New York: "a roommate sleeping on the bathroom floor, a pile of who-knows-what on the living room floor, or strangers ending up in YOUR room." Their debut LP Existential Playboy is out May 1. —Patrick Hosken
In honor of Grimes's "announcement" (is she or isn't she pregnant?), I've been listening to an overwhelming amount of the cyberpunk siren. And when I'm not fangirling over her encyclopedic knowledge of gaming and anime like my own (a woman after my own heart), I'm drooling over the album art for her upcoming Miss Anthropocene. It's hard to decide which new track is my favorite, but I haven't been able to get the "You wanna make me bad, pay me back" and "Said 'I like it like that, said 'I like it like that'" lines of her verses out of my head. For now, ahead of the album's debut, I'm going to have to call it at "Violence."
Though I've been following Grimes since stumbling upon the Dune-flavored Geidi Primes, there's something slinky and sexy about the anthropomorphic goddess of climate change and ethereal, fae-inspired beats that I can't stop thinking about. I want to be my much cooler best friend. —Brittany Vincent
Mickey Mouse grabbed a microphone and hopped in the booth after sucking the helium out of a balloon. Theodore from Alvin and the Chipmunks had a midlife crisis and released his first rap song. That "eeh, ur!" sound from Roddy Ricch's hit song, "The Box," figured out that it's more than a fire ad-lib and wanted to pursue its own rap career. The seemingly endless jokes about Atlanta rapper 645AR's voice have catapulted him to near-viral fame. His squeaky voice is unlike anything else.
His new song, "4 Da Trap," is hilariously on-brand. Over a melancholy meltdown of 808s, 645AR reflects on days of scraping cents to get something to eat to now "having racks" whenever he wants. At least that's what the lyrics claim. It's nearly impossible to make out exactly what he's saying, but it's just as hard to not be absorbed by it. It might be leading some big conversations in rap right now, but "4 Da Trap" might be the tiniest song you'll ever hear. —Trey Alston