'He Knew Who I Was': 'Teen Mom 2''s Kailyn Says Javi Meticously Planned Their Very First 'Chance' Encounter
Anyone else think this is totally scandalous?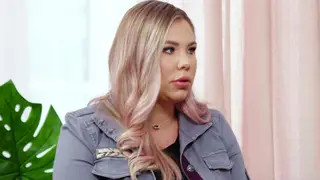 We've watched Kailyn and Javi's relationship grow and change throughout the years on Teen Mom 2, but it turns out there was more to how Lincoln's parents first met than we thought.
On tonight's "Kailyn's Biggest Blow-Ups" special, Kail sat down with Nessa to reflect on some of her most memorable moments on the show (yes, that fan-favorite 16 & Pregnant birth scene in which she said, "hold my leg, Jo!" made the cut). But it wasn't until about midway through her stroll down memory lane when the mom of three revealed the truth about how she and her ex-husband got together. They did in fact meet when Kail was working retail at the mall, but their supposed chance encounter wasn't exactly an accident.
"I found out later in life that he sought me out, knew who I was, came to find me," Kailyn revealed.
"I went through his Facebook messages. I found out that Javi applied for another MTV show called True Life: I Want To Get Back With My Ex Girlfriend. He got picked for it, but the girlfriend at the time refused to do it. So, weird how two months later he oddly finds himself in the mall where I'm working but claimed he didn't know who I was."
Kailyn then did some Twitter stalking and discovered that prior to their meeting, Javi had tweeted her -- despite telling her he didn't know she was on a reality show.
"You don't know who I am, but you tweeted me and you knew where I worked?" Kail mused.
The interesting part? She didn't learn this information until they were married!
But that wasn't the only tea that Kailyn spilled. Later, she said she just might have one more child, but since "I literally cannot have anymore baby dads," she would only have another baby with one of her sons' fathers. Which one? Her youngest son Lux's dad Chris.
"I do everything [for the baby] by myself, and so it would already be expected," she explained to a very confused Nessa of their co-parenting arrangement. "He's so just nonchalant."
What do you think about how Kailyn and Javi really met? And do you agree that she should have baby number four with Chris? Tell us your thoughts, and catch the Ask the Moms special this Monday at 9/8c!