New 'Harry Potter' Mobile Game Will Finally Give You The Hogwarts Experience
Actors from the 'Harry Potter' films will also reprise their roles in the game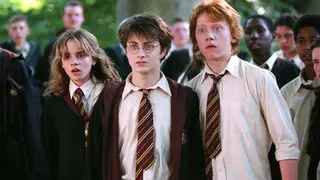 If you, like me, are a grown-ass adult who's still waiting for her letter to Hogwarts School of Witchcraft and Wizardry, then you're in luck (no Felix Felicis required): Harry Potter: Hogwarts Mystery will finally give you the opportunity to enroll at the wizarding school of your dreams.
The mobile game allows uses to become students at Hogwarts in the years between Harry Potter's birth in 1980 and his first year of school in 1991. (Do you think the wizarding music scene had a Madonna equivalent?) So, no, you won't be running into Harry, Ron, and Hermione on the way to Potions — but don't be surprised if you see some other familiar, red-headed Weasleys around campus.
Players will create a personalized student avatar, get sorted by the Sorting Hat, attend classes, practice magic, go on quests, and form friendships or rivalries with other students. Every decision you make influences your overall story arc in the game, putting you in control of your character's magical legacy.
Beloved Hogwarts professors like Dumbledore and McGonagall, as well as lovable groundskeeper Hagrid, will also be available to teach gamers new magical skills. (Remember, it's leviOsa, not levioSA.) Better yet: So will the original actors who portrayed them in the Harry Potter films!
Game developer Jam City, in partnership with Warner Bros. Interactive Entertainment, announced today (April 5) that six of the actors who appeared in the Harry Potter movies will reprise their roles as voice actors for the mobile RPG, including Dame Maggie Smith (Professor McGonagall), Michael Gambon (Professor Dumbledore), Warwick Davis (Professor Flitwick), Sally Mortemore (Madam Irma Pince), Gemma Jones (Madam Pomfrey), and Zoe Wanamaker (Madam Hooch).
Check out their game avatars below:
Harry Potter: Hogwarts Mystery will be released on April 25. More than 3 million aspiring witches and wizards have already pre-registered for the game here.