Surprise: Nicki Minaj Is Releasing Two Singles This Week
Barbie is Back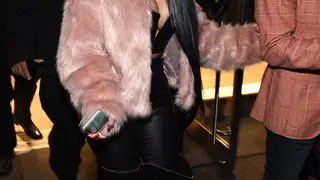 Nicki Minaj is returning. The Queens rapper took to Instagram to announce she's dropping two new songs on Thursday (April 12). The first single is titled "Barbie Tingz" and a visual tease of it features Minaj dressed in a Victorian gown looking dismayed as she is surrounded by four women in matching masks. The second single is called "Chun-Li" and its accompanying tease sees Nicki cosplaying as the famous Street Fighter.
"Chun-Li" isn't the first time Nicki has evoked the video game character. In 2011, she rapped, "OK, I'm the street fighter, call me Chun-Li" on Willow Smith's "Fireball." The next year, she referenced the video game again rapping, "Street fighter bitches, this the up cutter," on "I Am Your Leader." So, it is safe to say that Nicki is familiar with the game.
"I know what this album is gonna mean to my fans," Minaj said. "This album is everything in my life coming full circle and me being truly, genuinely happy. It feels almost like a celebration ... The Pinkprint was almost like my diary, closing the chapter on certain things and not knowing if I was happy or sad about beginning new chapters. I was really writing about feeling unsure. Now, I can tell you guys what happened for the last two years of my life. I know who I am. I am getting Nicki Minaj figured out with this album and I'm loving her."
It will be interesting to see if Nicki's description rings true on the new songs.