'Floribama' Confessions: Should Gus Tell The Girls About His Past?
Apparently, life hasn't been a cakewalk for the romance cover model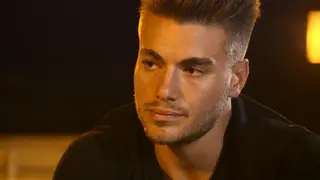 What was supposed to be a wild guys' night out morphed into an evening full of fruity drinks and feelings on the latest MTV Floribama Shore.
But Gus' idea of a good time -- BGSEB (aka Bank, Gym, Shower, Eat, Bar) -- was swiftly swapped for boozy protein shakes and happy hour at Harpoon Harry's. The trio's Southern GNO kicked off traditionally enough: bevs, bar food and a group prayer for "baby girls to look at." Then Gus found himself bonding with Codi and Kirk, opting to open up about his past and saying he was "beat down" while growing up.
"I was never taught to be your own person. I was taught to be a certain way, and if you weren't a certain way, you were beat into being that way. That's why I have problems now with being who I am. I feel like I can't be who I am without being judged," the Tallahassee native confessed, alluding to his guilt over partaking in the house hunch hunts.
Gus continued, saying that he came home from school one day to walk in on his mom having an affair. When he told his dad of the tryst, his ol' man split with another woman, leaving Gus to pick up the pieces for his siblings and mom, who he hated for what she'd done. When his father finally returned home, Gus said they "ended up getting into a scrap."
"I was [then] kicked out," Gus admitted. "Right after that fight happened, he looked me in the eye and said, 'You're a piece of sh*t. You're not a good person. You'll never amount to anything.' So that's why in this house, when people come after me for my character, it takes me back to that."
PCB's resident romance cover model also stressed that he hates "being vulnerable and opening up," adding that he isn't so sure he could be quite as truthful about his past with Nilsa, Kortni, Aimee and Candace.
"I don't feel like I can have the conversation with the girls in regards to why I am the way I am or why I get upset when you call me sensitive," Gus shared. "I don't feel like they listen."
But Codi, for one, thought that Gus sharing his story with the female roommates might not be the worst idea.
"If the girls heard Gus' story, they would all be in tears," he said. "And they would never ever make fun or judge his character again."
So should Gus tell his truth to the ladies in the hopes they'll better understand him, or is his past best left a secret? Tell us your thoughts, then catch an all new MTV Floribama Shore Monday at 10/9c.