Bop Shop: Songs From Britney Spears, Illuminati Hotties, Twice, And More
'The Feels,' the actual feels, a throwback that's more potent than ever, and so much more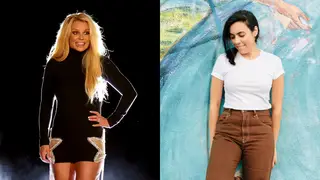 The search for the ever-elusive "bop" is difficult. Playlists and streaming-service recommendations can only do so much. They often leave a lingering question: Are these songs really good, or are they just new?
Enter Bop Shop, a hand-picked selection of songs from the MTV News team. This weekly collection doesn't discriminate by genre and can include anything — it's a snapshot of what's on our minds and what sounds good. We'll keep it fresh with the latest music, but expect a few oldies (but goodies) every once in a while, too. Get ready: The Bop Shop is now open for business.
With the release of their English single, "The Feels," the girls of Twice are back and better than ever. The high-energy track utilizes a groovy bass-driven melody interlaced with heavy synth, handclaps, and tambourine, while a spirited, campy music video transports fans to an early aughts fever dream. With each comeback, the Twice members evolve and change into even greater versions of themselves, and this time is no different. The first single off their upcoming album, this song truly gives us "The Feels," instilling emotions of excitement and wonder, and it's the perfect taste of what's to come. —Sarina Bhutani
S. Raekwon: "Do You Feel the Same?"
On October 8, soulful and spirited singer-songwriter Steven Raekwon Reynolds, who records music as S. Raekwon, will release his eclectic and striking debut LP, Where I'm At Now. Ahead of that, he's shared a number of singles; few are as immediately lovable as "Do You Feel the Same?," an upbeat movement led by a chiming acoustic guitar and an inscrutable, whisper-thin vocal snippet. Fans of Rostam and Westerman, fix your ears on this masterful mini-symphony. —Patrick Hosken
Jonas Brothers: "Who's in Your Head"
All three Jonas Brothers are famously wifed up, but that doesn't mean they never face insecurity in their relationships. The pop trio's latest single, a rollicking, R&B-infused cut, sees Nick, Joe, and Kevin speculate on whether their respective partners still think about their ex-boyfriends ("Got lost in your halo, I just wanna know / Who's in your head, in your head?"). Come for the catchy chorus, and stay for some of Nick and Joe's sultriest vocal harmonies yet. —Sam Manzella
Tori Amos: "Speaking With Trees"
Tori Amos is about to release her first full-length album in four years, Ocean to Ocean, and like her previous collections The Beekeeper and Native Invader, the fiery piano siren has once again turned to the garden to help cope with grief and loss. Her new single, "Speaking With Trees," is full of groovy guitars, rocking drums, and of course, some spirited keys. The song will have you swaying in your seat until you listen to the lyrics. "Speaking With Trees" is about Amos burying her mother's ashes beneath a treehouse, unable to say goodbye. "I've been hiding your ashes under the treehouse / Don't be surprised I cannot let you go," she sings. The sound of strings swirls around her, culminating with a rousing bridge about feeling held by the branches. —Chris Rudolph
Illuminati Hotties: "Protector"
Because it lacks the feral energy of "MMMOOOAAAAAYAYA," the surf twang of "UVVP," and the spilled-Slurpee stickiness of "Pool Hopping," the song that ends side A of Illuminati Hotties's latest album Let Me Do One More might feel like a red herring. It's vulnerable, fragile even. But what tenderpunk pioneer Sarah Tudzin is able to do across its five minutes is extraordinary, creating an infinite texture that sounds like falling asleep to white noise. She does all this while unpacking some heady concerns ("I am not sure that you're my screen door, honey") and right before she surging back into gear with the hilariously titled "Joni: LA's No. 1 Health Goth." When you're in its spell, though, it's all about "Protector" and the continued expansion of Tudzin's impressive artistic palette. —Patrick Hosken
B.I ft. Bipolar Sunshine and Afgan: "Lost at Sea (Illa Illa 2)"
B.I reprises his hit single "Illa Illa" with an unexpected twist. In partnership with English singer-songwriter Bipolar Sunshine and Indonesian artist Afgan, the remix, titled "Lost at Sea," is the international collaboration of your wildest dreams. The track maintains the essence of the original, the production has softened, and the addition of multiple English verses widens the scope of the song's impact. Though it's an excellent soundtrack for wistfully staring out the window, the collaborative effort proves that music can serve as a connecting force, able to reach across race, language, or border. —Sarina Bhutani
Britney Spears: "Overprotected"
Twenty years ago, Britney Spears released "Overprotected," which retrospectively seems to presage her struggle to control her own destiny. I've been reflecting on this song a lot this week as Britney won an important legal battle that brought her one step closer to her personal freedom. The lyrics are almost haunting at this point as she defiantly exclaims that she's fed up with people telling her what to do and how to act. The music video includes scenes of symbolism with walls literally closing in on her. But beyond its continued relevance, it's just an absolute bop with incredible choreography that we've come to expect from the icon. —Farah Zermane
In the late 1970s, David Byrne famously sang that "heaven is a place where nothing ever happens." Australian folk artist Grace Cummings, meanwhile, asserts that it's "where a man is nothing." She delivers this bombshell revelation in an earth-quaking yawp, one of the most intriguing voices in contemporary music seemingly summoned from far below. The accompanying music video is as confrontational, mesmerizing, and relentless as the hall-filling strums that resound throughout the song itself. —Patrick Hosken