Selena Gomez's 'Back To You' Video Is Full Of '13 Reasons Why' Season 2 Hints
It's basically a bonus trailer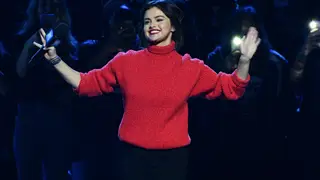 Selena Gomez just dropped a lyric video for the new song "Back To You" with plenty of bombshell visuals — but she doesn't actually appear in any of it, save for one Polaroid in the beginning. Instead, it's more of a bonus trailer for 13 Reasons Why, packed with brand new Season 2 footage.
As the upbeat but emotional song plays, the lyrics scroll across the screen: "I wanna hold you / When I'm not supposed to / When I'm lying close to someone else / You're stuck in my head and I can't get you out of it / If I could do it all again / I know I'd go back to you."
Meanwhile, a stream of familiar faces give the song context within the highly anticipated second season of 13RW, on which Gomez serves as an executive producer. A tormented-looking Justin (Brandon Flynn) confronts a scarred Jessica (Alisha Boe), while her former BFF Alex (Miles Heizer) protectively looks on. A very shaken Tony (Christian Navarro) is comforted by newcomer Caleb (RJ Brown) alongside his beat-up car — which we also got a peek at in the teaser photos — and, of course, Clay (Dylan Minnette) is haunted by visions of the late Hannah (Katherine Langford).
In addition to the emotional glimpses, we get a look at Clay's sweet tribute to Hannah: a semicolon tattoo on his wrist. It's a symbol of mental health awareness and suicide prevention, and not unlike the ink that Gomez, Boe, and Tommy Dorfman (who plays Ryan) got after Season 1.
Watch the "Back To You" lyric video above, and catch 13 Reasons Why Season 2 when it premieres on Netflix on May 18.