'Get Me Out of Here!': Katie Just Packed Up And Left 'Buckhead Shore'
Will Parker's ex ever return?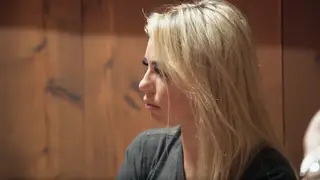 On tonight's episode, a harmless drinking game of "Most Likely" went south, with Savannah calling it before the fun even started: "Someone's about to get mad." Facts. And let's be honest -- Parker would have preferred pool or ping-pong, but we digress.
It was Juju that kicked off the controversy, asking during the game who was the most like to get "flown out" for money. For those not in the know, by Juju's definition, "Flown out is when somebody pays for your trips and your hotels and everything, and they expect you to f*ck."
The Magic City man had barely finished the question before Parker locked eyes with his ex-girlfriend Katie, who immediately felt she was being accused of "sugar baby" status (or being "a hooker"). 
"Are you f*cking serious, Parker? You're literally dating someone who doesn't have a f*cking job," she said. "You're gonna say that I'm the one that's getting flown out? That makes me feel like a piece of sh*t."
Parker instantly recognized his faux pas, stating, "When I made that eye contact, I could feel her heart hurt. She felt like that question was directed towards her, but I never had that intention."
Still, the damage had been done. The next morning, Katie wasn't about to entertain the Head Buck's explanation.
"Last night was completely just the last straw for me. I have tried to stick it out this entire trip, but I have reached my breaking point," she declared. "I just can't take it anymore. I'm leaving. This is the opposite of a fun getaway -- get me out of here! 
Parker, meanwhile, said he felt caught in the middle. "I want to tell Katie that she can stay ... but I know that I can't because it's gonna upset Savannah," he shared. "And me and Savannah are finally in a good place."
Katie packed her bags and peaced out, but will she be back? Keep watching Buckhead Shore Thursdays at 9/8c to find out!