How Tomorrow X Together Became K-pop's Brightest Rookies
The Korean group has emerged as a force unto themselves, a promising unit not defined by the blinding gleam of their labelmates — but by their own merit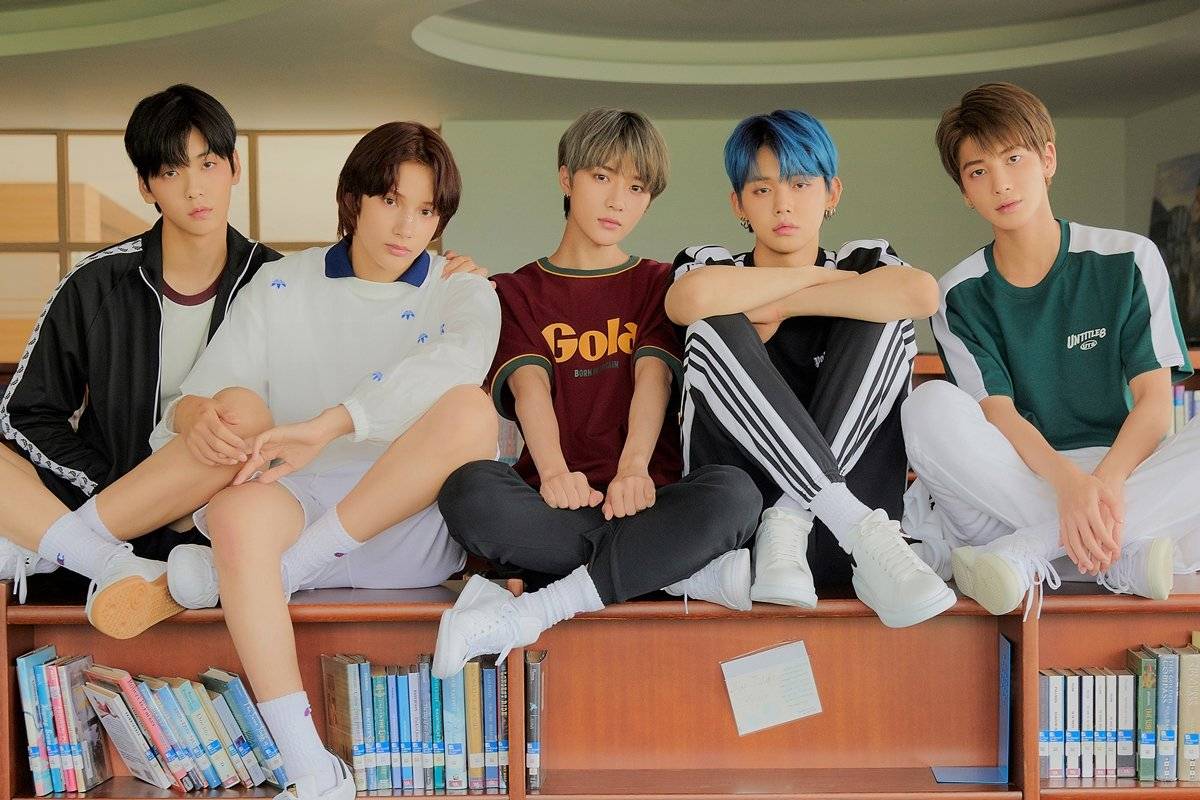 RM, the sage leader of Korean superstars BTS, has a favorite saying: "The brighter the light, the darker the shadow." And while the seven members of BTS have gradually gotten used to the occasionally unforgiving glare of their global popularity, no group had as big a spotlight thrust upon them in 2019 as their young labelmates, Tomorrow X Together. After all, standing in the shadow of your own success is one thing; standing in the shadow of the biggest group in the world — of an entire industry's monumental expectations — is wholly another.
But this year the rookie boy group (pronounced "Tomorrow By Together") emerged as a force unto themselves, a promising unit not defined by the blinding gleam of their sunbaes (seniors) BTS but by their own merit. In the 10 months since their March 4 debut, TXT have successfully forged their own musical identity with a catalog of songs about the emotional and often tumultuous coming-of-age experience. Their singles were an eclectic mix of genres — sparkling pop ("Crown"); playful hip-hop ("Cat & Dog," "Angel Or Devil"); and relentless synth pop ("9 and Three Quarters") — but each sounded distinctly like TXT: bright and fresh with a potent energy that is equal parts whimsical and mesmerizing. That energy also extends to their choreography through intricate moves and quirky formations.
Among the heavily saturated field of young boy groups, Tomorrow X Together have managed to find a sound and an aesthetic that is uniquely theirs.
A promotional image from Tomorrow X Together's sophomore release, The Dream Chapter: Magic
And their hard work isn't going unnoticed. Their debut EP, The Dream Chapter: Star, sold over 100,000 units in three days and hit No. 1 on Billboard's World Albums chart, and its full-length follow-up, The Dream Chapter: Magic, bowed at No. 3. Meanwhile, Members Soobin, Yeonjun, Beomgyu, Taehyun, and Huening Kai have been racking up the male rookie awards in their native South Korea. Tomorrow X Together also scored a nomination at the MTV Video Music Awards for Best K-pop — the only rookie group among the nominees — and embarked on a sold-out U.S. showcase tour.
So, how did Tomorrow X Together become the monster rookies of 2019? Let's take a look at how TXT took over the world and timelines this year:
When it comes to Big Hit Entertainment, intrigue is everything. Tomorrow X Together was formally announced on January 10 via a tweet, but the first look at the group came in the form of a short introduction film for oldest member Yeonjun. The clip is brief but encapsulates the youthful energy of the future group. Over the course of several weeks, Big Hit revealed the other four members through a series of colorful vignettes and dreamy stills that highlighted each player's individual style before dropping a teaser video of all of them together, dancing and running around being teenage boys. It was the internet's first glimpse of the group's playful dynamic. True to Big Hit, these clips were big on style and scarce on actual info, leaving fans to fill in the blanks themselves with theories and speculation. (No one knew what these boys even sounded like until their debut single "Crown" dropped a little more than a month later.) But all that suspense paid off; "Crown" racked up over 14 million views on YouTube in its first 24 hours and dominated Twitter trends. And Big Hit proved that lightning could, in fact, strike twice.
Ask any BTS fan what draws them into the superstar group's world, and somewhere on that sprawling list you'll find, "Their music speaks to me. It heals me." Big Hit CEO Bang Si-hyuk has created a safe space for his artists to speak to their generations directly; it's even part of the company's motto: "Music and Artists For Healing." So it wasn't surprising that TXT debuted with a song like "Crown," which conveyed their real coming-of-age fears and anxieties over a crisp beat. "Your existence changes my world like magic," they sing. "I'm not in pain anymore." It's the kind of song teens around the world can relate to, an empowering anthem that turns something scary — like the emotional and physical growing pains you can't control — into something powerful, and beautiful, like a crown.
Similarly, on their comeback single "9 and Three Quarters (Run Away)" the members sing of breaking free from everyday burdens and finding strength in one another. These all-consuming thoughts and feelings are universal, and most importantly, authentic to them as a group of teens and young adults (youngest members Huening Kai and Taehyun are 17) who are growing up "different but together."
A spell-binding narrative rooted in the fantastical 
Big Hit knows the true power of world-building. A good story can hook fans from the get-go, compelling them to follow the adventure as it unfolds over a series of music videos and concepts. (BTS fans have been engrossed in the Bangtan Universe for years.) TXT hinted at their whimsical world in Yeonjun's very first introduction video when the outro featured morse code for the word "dreaming." What does it all mean? Well, fans are still trying to figure that out (TXT really love morse code, just listen to "Crown"), but it's all part of the fun. Through their lush, cinematic visuals for "Nap of a Star" and "Magic Island" — videos that deserve more attention for their stellar art direction — TXT have leaned heavily into the fantasy realm, delivering a coming-of-age series worthy of its own graphic novel. World-building allows fans to become more active participants in the media they're consuming; there's a mystery to solve, questions to answer, ciphers to crack. Everything and nothing has meaning.
The narrative that TXT are building revels in more surreal depictions of magic and mythos; their characters escape to gorgeous worlds where they sprout antlers and wings, setting fire to the doors that try to contain them — but it's always rooted in human emotion. Because that's the key with world-building; a world without empathy isn't one worth immersing yourself in.
In less than a year, Tomorrow X Together have crafted a diverse discography full of fizzy pop songs ("Poppin' Star"), sentimental ballads ("Nap of a Star"), R&B jams ("20 cm"), and energetic bops ("Blue Orangeade"), but equally as impressive is their distinct choreography. It's singular to them. Their five-member formations are intensely creative and showcase their technical prowess and artistry. Yeonjun describes their signature style as "precise movements and raw energy." For "Cat & Dog," they build a dog house with their bodies that Yeonjun then leaps over; for "Crown," Yeonjun and Beomgyu carry tallest member Soobin on their backs during the bridge; and for "9 and Three Quarters," they twist and turn into a mass of gangly limbs until Beomgyu is in the center casting a magic spell. It's a kind of alchemy that's only possible with complete trust in one another. It's enchanting to watch and a strong testament to their teamwork.
The foundation of every fandom is built around the connection between artist and fan. And while BTS's smart social media presence wasn't the only factor that contributed to how they amassed the world's most dedicated fan base, it cannot be overstated how essential social media, YouTube, and live streaming apps like South Korea's V Live were to the group's growth. Now, live streaming and active feeds are commonplace in K-pop, but Big Hit and BTS pioneered a level of intimacy between the group and their fans that is unparalleled. So much so that they even launched their own fan community app, Weverse.
As such, TXT have exhibited a significant amount of social media savvy since their debut. The members are active on Twitter, V Live, and Weverse — they even have a regular series on their YouTube channel where they post memeable behind-the-scenes videos — but more than using it as a tool to post selfies and videos, reply directly to fans with cute puns, and roast one another (which they do to great effect) they also use these platforms to talk about their days and offer words of encouragement to those who need it. In response to a fan's letter on Weverse, Beomgyu said that depression was "nothing to be ashamed of," encouraging them to talk to their parents. The members also post regular diaries to the app where they open up about their own worries. Taehyun recently opened up about the emotional burden and worries he felt covering his idol Jonghyun's part for a special stage. It's this openness that's aided Tomorrow X Together's rapid rise among fans from all walks of life who can relate to these feelings too.
Bonds forged over timelines and feeds aren't just indicative of a group's lasting success — they're now imperative to it.