Kanye West Gets Candid About The Cold War Between Him And Drake
'It hits me in a really sensitive place'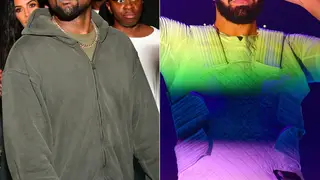 Drake and Kanye West have been in a prolonged cold war ever since the release of Pusha T's "The Story of Adidon." The dis track revealed to the world that Drake had a son, and since then, Graham has been taking shots at Kanye. Recently, at the Chicago stop of the Aubrey & The Three Amigos tour, Drake rapped that "Kanye flopped," adding to the long list of not-so-subtle shade. Finally, West responded this week during an interview on the 107.5 WGCI Morning Show.
"I was thinking just my mood, like, when we was talking about the Drake thing, like it hits me in a really sensitive place," West told the hosts. "Cause you hang around people and they come to your house, be around your family and this and that, and then they get mad about a beat and they send purple demon emojis. I don't play like that. I don't play in that place. I don't understand that. I'm not a gangsta like that. Look, it ain't no beef. Ain't nobody got beef. Ain't nobody going to jail."
As the conversation progressed, the Chicago mogul discussed where he thought Graham was insensitive and the idea of reconciling the relationship.
"We all got love for Drake," he continued. "We understand that he got upset about it. I feel that it was insensitive for him in any way stress me out anyway after TMZ, while I'm in Wyoming, healing, pulling all pieces together, working on my music. You know, we'll reconcile that one day, because we got to. Because we got work to do."
In a Rolling Stone interview, Malik Yusef, a frequent West collaborator, discussed the potential of the Chicago artist hearing Drake's "March 14." Scorpion's closing track found Drizzy rapping about the experience of having his first child.
"I was not there, but I do know that story: [Drake] played early versions of those songs and so on and so forth," Yusef said.
Kanye also denied any involvement in giving Pusha T information about Graham's then-unknown child.
"No I didn't," West said emphatically. "Don't pull me into this conversation. Like, I'm 'Ye. I got major things to do other than to be telling him some information about Drake.