Bop Shop: Songs From Adele, CKay, Orion Sun, And More
Plus, Julia Wolf leaves you on read and Death Cab reach into the archives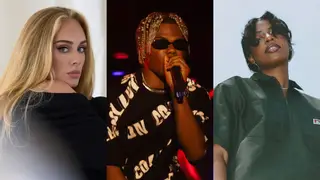 The search for the ever-elusive "bop" is difficult. Playlists and streaming-service recommendations can only do so much. They often leave a lingering question: Are these songs really good, or are they just new?
Enter Bop Shop, a hand-picked selection of songs from the MTV News team. This weekly collection doesn't discriminate by genre and can include anything — it's a snapshot of what's on our minds and what sounds good. We'll keep it fresh with the latest music, but expect a few oldies (but goodies) every once in a while, too. Get ready: The Bop Shop is now open for business.
Adele is back, and the first single off her forthcoming album, 30, out November 19, is a gut-wrenching moody ballad rife with riffs like only Adele can offer them. On "Easy on Me," the singer croons over piano chords weaving a tale of love and loss. Simultaneously tender and gritty, it is heartbreakingly honest and beautiful in its simplicity. True to form, Adele manages to capture the complexities of love in the span of a few minutes. Vulnerability, hope, and healing have a sound, and it is Adele. —Virginia Lowman
You can't spend more than 15 minutes on TikTok or Instagram right now without coming across CKay's mesmerizing track "Love Nwantiti." The Nigerian singer-songwriter and emo-Afrobeat artist is true to form as he pairs spellbinding vibes with suave vocals that describe an intense, toxic love. "Love Nwantiti," which means "small love" in Igbo, enjoyed success when CKay first released it back in 2019, but social media has turned the song into an international phenomenon that's currently sitting at No. 2 on Billboard's Global 200 and No. 35 on the Hot 100 with no signs of slowing down. —Farah Zermane
Young Thug with Drake and Travis Scott: "Bubbly"
You have to admire Young Thug, a decade into stardom that's found him as much a style icon as a musical innovator, opening a star-studded song on his latest release, Punk, with the words, "My career 'bout to blast like bubbly." The next three minutes feature head-spinning verses from Thug and guest Travis Scott before the beat slows down, naturally, for Drake to bring things home from the sky: "Buyin' out Louis and Christian Dior / I took the jet to the New York store." —Patrick Hosken
Don't be put off if Julia Wolf leaves you on read; she's just not "too much for talking." On this clever cut, the New York-based indie-pop act examines her avoidant tendencies through the lens of her favorite kicks. "Fill my shopping cart up with new Nikes / Scuff 'em all up like how I been treating your psyche / I get so indifferent I can never keep tidy," she sing-raps over a synth-y beat. Try to get Wolf's catchy chorus out of your head, I dare you. —Sam Manzella
Last year, R&B-pop singer Orion Sun told MTV News that she "definitely exist[s] in both optimism and nihilism." You wouldn't know it from the silky sonics and golden voice on display throughout "Concrete," her new single produced by Rostam. She evokes the power of her antecedents as she begins "sprouting from the underground through the concrete" with all eyes seemingly turned to her. "The warm hands of my ancestors have guided me through such tough terrain," she says about the inspiration for the song. "I am comforted by them and in turn given the strength to keep going." —Patrick Hosken
Charli XCX has done addictive earworms and hyperpop, but her newest single finds her at a crossroads between the two as she embraces her inner "ultra pop star." On this ode to her inability to maintain healthy relationships and penchant for toxicity, Charli channels disco and '80s pop as she breathily laments, "I want the bad ones / 'Cause they're all I know," before breaking into a sweat-drenched dance floor-ready chorus of "I always let the good ones go." Its big-budget, Hannah Lux Davis-helmed visual finds her positively stunting at an ex's funeral, where she perches on top of a coffin in front of a wind machine and enacts full choreo in a two-piece by his grave. Goals. —Carson Mlnarik
Del Water Gap: "I Hope You Understand"
The guts of Del Water Gap's excellent self-titled debut album hang in wanting, longing, reaching for love that always evades capture. But on "I Hope You Understand," the need turns so deeply desperate; the unshakeable truth that this is not ending well has reached his core. "I had a dream you killed me," he confesses, "bread knife to my throat." And yet even as he bleeds out, over swooning, soaring electric guitar and synth, he wants his lover to know that they meant something wonderful to him. "Maybe I deserve it," he decides, "it" meaning the loss, or maybe meaning the fleeting love unacknowledged. Sometimes they go hand-in-hand. —Terron Moore
No context, all vibes — that's the M.O. of TikTok sensation PinkPantheress, who has begun to transcend that frankly quite limiting label. It's not just that her brief songs are readymade for sharing and as easy consumable as shots. It's that whatever sample she's working with — in the case of "Reason," a frantic breakbeat snippet — somehow sounds great under her nostalgic, warm, almost narcotic voice. —Patrick Hoskem
Death Cab for Cutie: "Coney Island" (band demo)
The Photo Album is not what put Death Cab for Cutie on the proverbial indie map, but it did put their poster on Seth Cohen's wall. Yes, 2003's Transatlanticism was their breakout LP, but its quieter 2001 predecessor remains steadfastly beloved for its melodic highs (and boasting potentially the band's best song). On record, penultimate track "Coney Island" is rainy and understated; on the recently unearthed "band demo" version — set to appear on a forthcoming 20th anniversary deluxe reissue — the song imagines a parallel universe where Death Cab pivoted to alt-country at the turn of the new millennium. Instead of Chris Walla's stuttering drum sample, this version rests on twangy guitar the likes of which I personally would've expected from Ben Gibbard's Neil Young sideburns era a few years later. Regardless, it sounds welcome and warm, if a touch out of character. That's what makes it so novel. —Patrick Hosken