For Young 'A Series Of Unfortunate Events' Star, 'You Can't Just Wait For An Adult To Do Something'
Louis Hynes on Season 2, 'taking risks,' and improvising alongside Neil Patrick Harris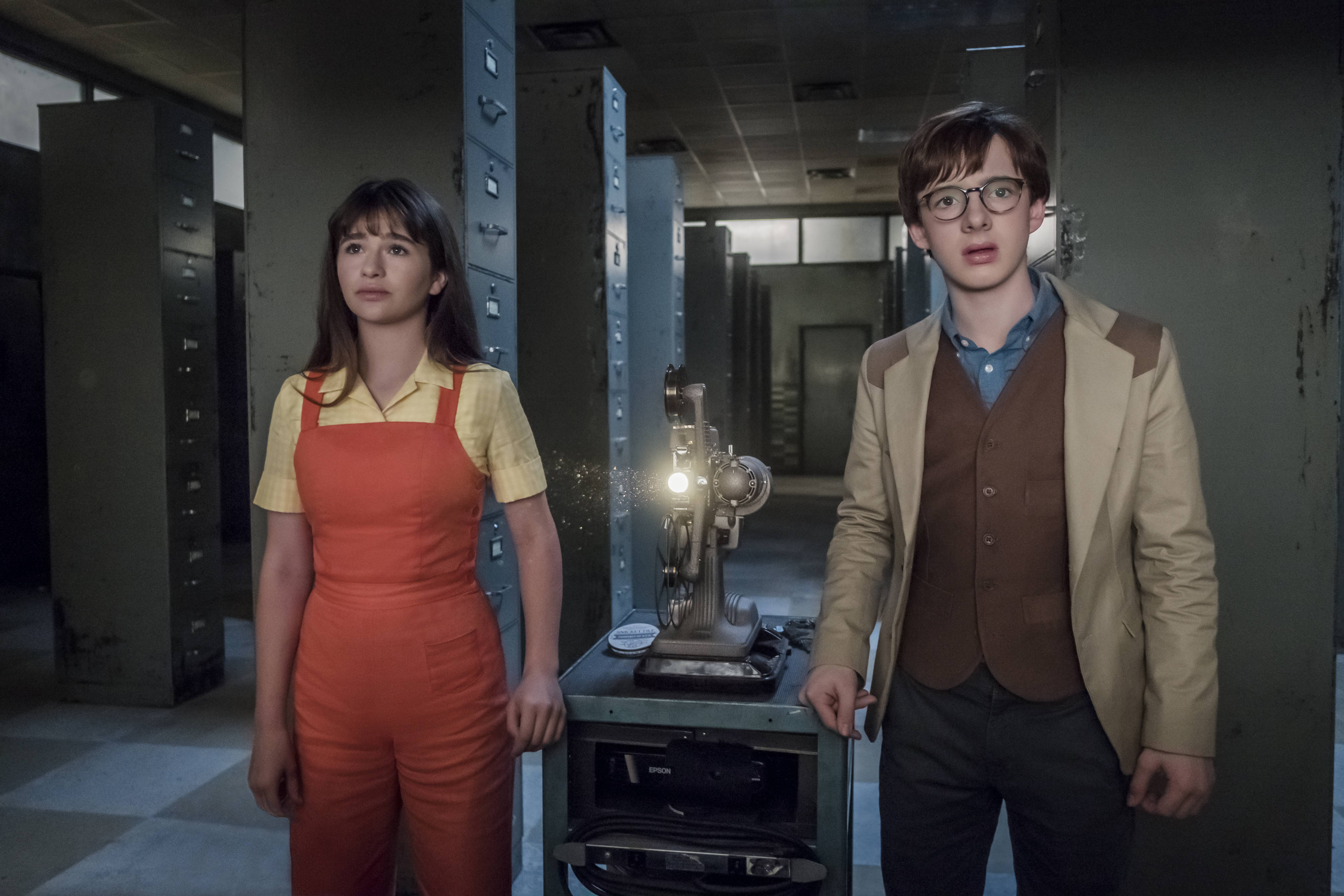 For Louis Hynes, taking on the role of Klaus Baudelaire in Netflix's A Series of Unfortunate Events is the exact opposite of unfortunate—no matter what Lemony Snicket says.
While the tragic story of Violet (Malina Weissman), Klaus (Hynes), and Sunny Baudelaire—orphaned after the mysterious death of their parents—continues in Season 2, the children nevertheless persevere, navigating their dire situation with aplomb and newfound agency. The Boudelaires begin their grim journey at Prufrock Prep before being swept up in Count Olaf's (Neil Patrick Harris) nefarious deeds, going from one miserable situation to the next. But each new horror brings them slightly closer to uncovering the mystery of VFD, a secret organization that both their parents and Count Olaf were a part of.
In A Series of Unfortunate Events, the adults consistently let down the children left in their care, but according to Hynes, their negligence has only made the Baudelaires stronger. MTV News chatted with the 16-year-old star of the Netflix dramedy about Season 2, becoming Dr. Faustus, and why you can't always wait around for an adult to do things for you.
MTV News: What was it like walking onto set the first day of Season 2, and how would you compare that experience to Season 1?
Louis Hynes: Season 1 was frankly terrifying, the first time I walked on set. It was all so new—with new people and a whole world that I had never seen anything like before. So Season 2 was quite unlike that. It was much of the same crew [and] much of the same cast. We were all really happy with how Season 1 had gone, so in that regard there was certainly pressure to make something of an equally high standard for Season 2.
MTV News: What about Klaus? How has he evolved from the first season to now?
Hynes: In Season 1, the Baudelaires were so shell-shocked by their parents deaths and still grieving, so it was difficult for them to put anything into motion themselves. The joy of Season 2 is that Violet, Klaus, and Sunny are far more proactive. They've realized at this point that you can't just wait for an adult to do something. You have to do things yourself.
MTV News: There's definitely a shift that happens in the middle of Season 2 in which for the first time we start to feel hopeful as the Baudelaires take more control of their ow destinies.
Hynes: I agree! I think the Baudelaires have realized that in Season 2. It's far more fast-paced than Season 1. It's a good new chapter in the Baudelaires' lives. It's still very much A Series of Unfortunate Events, but there is at least an element of hope that wasn't there before, especially as they start discovering more about their family's history.
MTV News: Did you feel more confident in your portrayal of Klaus in Season 2?
Hynes: I felt like I knew Klaus going in, and over the break I had really been thinking about how I wanted Klaus to develop as a character over the course of the season. He sort of grows up throughout Season 2. He has a birthday, so it's even quantifiable. It was definitely different, weaving that into the season. It was also less daunting to make mistakes and try things that didn't work.
MTV News: Speaking of that, Klaus gets to be a bit of a chameleon this season and you got to try some character work with Neil Patrick Harris. You're a bit comedy fan, so what was that experience like for you? Was there room to improvise?
Hynes: Definitely. I've had long chats with Neil [Patrick Harris] about when that's appropriate to do. I've always struggled to find times in such a worthy script to play around with that, but Neil's always encouraging us to try things and to take risks that might not pay off but that OK because there's always take two. There were a few moments in Season 2 that I was really happy with that were improvised.
Hynes: Later in the season Klaus goes in disguise as Dr. Faustus, and there were some great bits in that where I had the freedom to improvise a little because he's less of a defined character than Klaus.
MTV News: What was it like getting to step into the role of Dr. Faustus and play someone different?
Hynes: I've watched Neil do it many times, so it was a real privilege for me to try my hand at something a little bit similar.
MTV News: Is comedy something you want to pursue?
Hynes: I'd love to try everything, frankly. Comedy's great. Drama's great. I'd love to see where the world takes me and just see what happens. I'm always open to trying to learn more about acting and comedy and all of the different aspects of working on a film set.
MTV News: The sets on this show are always so spectacular, but what was it like on the set of the Caligari Carnival?
Hynes: The Caligari Carnival was probably one of the more intricate sets that we've made. It was all on one soundstage—the entire thing—and they even built a working roller coaster for that episode. We got to ride a bit of it. It was insanity, actually.
MTV News: Was that your favorite set this season?
Hynes: That's difficult! My favorite set this season might have been the penthouse because we've never really seen anything that splendid on the show before. Everything's been fairly murky or grungy. So it was really nice to have something that instead of being ridiculous in its hideousness, it was ridiculous in its pleasantness. That was fun to work with.
MTV News: In A Series of Unfortunate Events, the adults are either bumbling and untrustworthy, which tends to lead the Baudelaires to take matters into their own capable hands. Do you feel like they're inspiring young people today to do the same?
Hynes: I hope so. They're great role models for anyone... As a young person, you often feel patronized or not listened to, and that's the same things the Baudelaires are struggling with. It's almost parabolic in encouraging young people to take action and fight for what they believe in.
MTV News: You're currently filming Season 3, which will be the final season of the series. Is it starting to feel like a goodbye?
Hynes: It's nice to feel like we're only doing something for the duration in which we can great good content, and we're not just creating something for the sake of creating it. It's very easy to just make more of something because the money people tell you to, far beyond it's sell-by date. I love the fact that we're just honoring the books and stopping there—and not being gratuitous.