Miley Cyrus And Liam Hemsworth Offer 'Heartbreaking' Look At Their Wildfire-Ravaged Home
They're 'devastated' but 'grateful'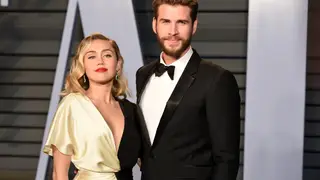 As three devastating wildfires continue to blaze throughout California, Miley Cyrus and Liam Hemsworth are speaking out about losing the Malibu home they shared together.
On Tuesday (November 13), Hemsworth took to Instagram to share a chilling photo of the damage, with the burned remains of the letters "L-O-V-E" that once adorned the space.
"It's been a heartbreaking few days. This is what's left of my house. Love," the actor wrote. "Many people in Malibu and surrounding areas in California have lost their homes also and my heart goes out to everyone who was affected by these fires. I spent the day in Malibu yesterday and it was amazing to see the community pulling together to help each other out in any way they can. Malibu is a strong community and this event is only going to make it stronger."
On his Instagram Story, the 28-year-old added a before-and-after look at the "L-O-V-E" letters.
Hemsworth also expressed his gratitude to the firefighters who continue to battle the blaze, and encouraged his followers to donate to relief efforts. According to the Associated Press, the couple are also donating $500,000 to The Malibu Foundation through Cyrus's own Happy Hippie Foundation to "restore Malibu's magic."
Cyrus echoed her fiancé's sentiments in her own series of tweets late Sunday night, writing, "Completely devastated by the fires affecting my community. I am one of the lucky ones. My animals and LOVE OF MY LIFE made it out safely & that's all that matters right now. My house no longer stands but the memories shared with family & friends stand strong. I am grateful for all I have left."
Deadly fires began tearing through California late last week, forcing hundreds of thousands to flee their homes and leaving at least 42 people dead. Cyrus and Hemsworth, along with their pets, were among many celebrities — including Gerard Butler and Neil Young — who safely evacuated but sadly lost their homes.