Flipp Dinero's Voice Is Raspy, But He Doesn't Need Auto-Tune — Unless He's With T-Pain
Last year's 'Leave Me Alone' was his introduction to the world. Now the next chapter unfolds.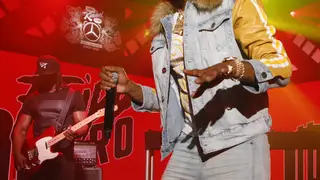 Flipp Dinero's breakout hit "Leave Me Alone" was one of the biggest rap songs of 2018, but by talking to him, you'd assume that it was just another step en route to reaching the genre's upper echelon. The Brooklyn rapper's sound is unmistakable. His vocal chords sound like they're being singed by a twisted dominatrix. Yet as harsh as it sounds, it's all by design — and authentic too. It's why "Leave Me Alone" peaked at No. 20 on the Billboard Hot 100 and still continues to get prominent playlist placement.
These are bragging words for any artist, but in conversation, Dinero is happy yet humble. This success – the lights, the glamour, the opportunities – isn't the product of overnight work. "I put out three projects prior to that song," he says over the phone. "It wasn't the first to get millions of views either. I'm just glad to be at this point in my career."
Just two months after "Leave Me Alone"'s September release, it went gold. A month after that, it went platinum. It made Apple Music's The A List: Hip Hop playlist and Spotify's famous RapCaviar playlist. Urban rap radio stations played the song over and over. All of this introduced the world to Dinero, a rapper whose low eyes and wide, mischievous grin could give off the appearance of arrogance. In conversation, however, he doesn't just tell the world how grounded he is — he shows it. "I thank my mother and father, my family and the people that surround me – God, also," he says about how he remains this relaxed. "I read a lot, I read my Bible faithfully. This helps me stay grounded and keeps me from getting ahead of myself, contributing to my personality as an individual."
His latest song, "Feelin Like," released in December, is a little less vibrant than "Leave Me Alone," choosing to embrace the sanctity of a moment instead of pushing away a lover's embrace. He practically moans on the chorus with an everlasting cry of "ooh" that extends through harsh 808s and thunderous claps, before adding, "Feelin' like I fucked up." You can tell that his eyes are closed while singing it, his head to the sky, arms outstretched with a half-glazed smile on his face. "I was just in the studio having a good time, just freestyling," he says of the song's creation. "The only people in the studio were me and my brother Los, my engineer. We were just catching a vibe and I felt that if I put this onto wax, the world would be able to relate to it."
Both "Feelin Like" and "Leave Me Alone" are the kind of raspy, melodic gems that make Dinero such an interesting character. His voice sounds like he needs to cough, or like he might need a glass of milk and a lozenge, but it isn't grating, like someone who would be dismissed from an American Idol audition. In rap, that kind of imprecision normally doesn't fly. It's been Auto-Tune season for the last 14 years, since T-Pain's mega R&B hit "I'm Sprung" reintroduced the sound to mainstream music.
"I've been offered it a couple of times but I always turn it down," he says when asked about using it, after a brief pause. "The only time I allowed it was when I was working with my big brother, T-Pain." He's referring to "All I Want," the collaboration from T-Pain's recently released album, 1UP. "He put Auto-Tune on my voice and that was just because I was working with the legend. That's the one we kept after cutting three or four tracks. Once we put the beat on, we just went instantly and made it in 20 minutes. We were laughing the whole time."
Once you get past the rasp, especially when actually listening to how smooth and buttery his voice is on "All I Want" with the additional technical coloring, it's clear to see that Dinero has the capability to really belt out moving melodies. "I love singing – it's actually my first passion," he admits with a slight chuckle. "In this new project that I have coming up, you'll hear a lot of singing," though he's hesitant to reveal new details beyond "a lot of bangers, a lot of melodies." There's also going to be more than just singing. "You're definitely going to hear the versatility because I want to emphasize the differences in my flows," he says. "I don't want to be grounded or stagnant; this project is going to be a mixture and melting pot."
In that mixture should be DJ Khaled, someone who the rapper calls his "brother" and has been in the studio with on more than one occasion. "I learned to grind and stay focused through him," he says of their relationship." "I'm an individual who is really focused, but to see someone like that, to stay up and have the energy not to sleep, it's crazy. He was up until, I kid you not, four or five in the morning. Watching him say 'Another one!' made me laugh and I was ready to get back to work."
DJ Khaled and T-Pain aren't the only legends he's been in the studio soaking up game from, as he puts it. And there are a lot of lessons to take away. But when asked if he would give his old self advice based on what he's learned maneuvering through the industry, he hesitates. "I don't have a lesson, I have a voice," he says. It's wise to not think in the past because while reveling in what should have been done, rap moves on. "Feelin Like" is the latest Dinero cut that will replace "Leave Me Alone." It's time to focus on the present. "I just finished bumping 10 songs that I cut in the last two weeks," he says. "My sound is my face and I have to show my face."