'Siesta Key' Sleepover: Will Brandon's Indiscretion Ruin His Relationship With Madisson?
He and that groupie probably weren't playing Checkers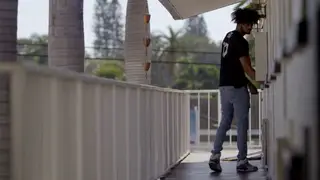 Maybe it's time the Siesta Key cast starts sleeping in their own beds.
The latest unexpected slumber party to occur in the coastal Florida town? Brandon and Canvas a random groupie we'll just call Jane. (And yes, we're talking about the same Brandon who is exclusively dating Madisson.)
To recap: While Mad and Kelsey were both busy facing career-related rejection in New York, Brandon was gearing up for "the biggest performance of his life." Madisson then reached out to her beau for a little reassurance, but he all but blew her off so he could spend some time mentoring Canvas on her sob-story-inspired songwriting. (Remember Canvas?)
Fast forward to BG's big show, and the budding rapper found himself dodging female fans left and right. Chloe, of course, was doing her best to keep an eye on Brandon's wandering eye.
Meanwhile, Madisson shot down a cute male model at NYC hotspot Marquee and left to call her boo, who didn't answer because he was busy listening to groupie Jane rave over his shirtless performance. When Jane asked Brandon to stay with her, he didn't hesitate, and they left the club hand in hand. Chloe missed this rather important development (it wasn't on Snapchat), but Canvas caught it all. And for our part, we spotted BG leaving a strange apartment (most likely Jane's) the very next morning...while fixing his ponytail. That can only mean he and that groupie did one thing, and it probably playing wasn't a game of Checkers.
So what's next for Bradisson? And if the sh*t hits the fan (which it will, because this is Siesta Key), will they be able to bounce back? Find out next Monday at 10/9c.