Bop Shop: Songs From Avril Lavigne And Machine Gun Kelly, Haim, And More
And all the 'Teeth Marks' and 'Body Language' you crave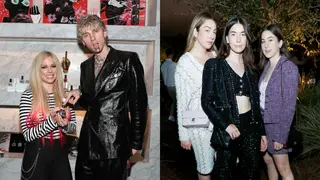 The search for the ever-elusive "bop" is difficult. Playlists and streaming-service recommendations can only do so much. They often leave a lingering question: Are these songs really good, or are they just new?
Enter Bop Shop, a hand-picked selection of songs from the MTV News team. This weekly collection doesn't discriminate by genre and can include anything — it's a snapshot of what's on our minds and what sounds good. We'll keep it fresh with the latest music, but expect a few oldies (but goodies) every once in a while, too. Get ready: The Bop Shop is now open for business.
At the risk of hyperbole, the run Haim are on right now rivals that of the '90s Chicago Bulls. They released their best album two years ago and have spent the time since becoming somehow even more endearing. Alana also became an award-winning movie star. That connection with director Paul Thomas Anderson also yielded "Lost Track," their latest song/video that, even at a mere 122 seconds, is a gentle banger. Like "Sunday Morning" but in the Valley, "Lost Track" is both lullaby and heartbreaker, as Danielle sings, "I'll never get back what I lost track of." The band posted that it "felt fun to do something very collaborative/off the cuff." Call them Jordan, Pippen, and Rodman. —Patrick Hosken
S.G. Goodman: "Teeth Marks"
"Teeth Marks" seems to exist in a moment stretched out into infinity. S.G. Goodman's unforgettable voice anchors her observations after a lover's departure, leaving the titular souvenirs on her skin, while the music becomes increasingly spectral and vaporous. It's a terrific preview of her new LP of the same name, due out June 3. —Patrick Hosken
Avril Lavigne: "Bois Lie" (ft. Machine Gun Kelly)
Pop-punk has reared its spiky-haired head once more, and it's only fitting that Avril Lavigne is celebrating with her latest album Love Sux, a return to form for the genre pioneer featuring a shredding collab with Machine Gun Kelly. With pounding drums and screeching guitar, Avril offers up a deliciously addictive slice of her specialty: a spunky track with an addictive chorus, infectious angst, and a little bit of girl power. "Bois lie, I can too / Revenge is my sweet tooth," she boasts, before MGK comes in to switch up the narrative. Perhaps we're hopeless when it comes to love, but as the duo shows us, sometimes that's half the fun. —Carson Mlnarik
Philly-based LGBTQ+ pop-rock trio Phntms (styled in all caps) are on a roll right now. Last October, they released the incredibly catchy "Paper Flowers" and have since followed it up with an equally infectious new earworm, "Body Language." Frontwoman Alyssa Gambino is a vocal powerhouse on par with greats like P!nk and Kelly Clarkson as she sings about learning to read a partner's actions versus their words. The band's ability to consistently deliver fun, relatable tracks has me stoked for their upcoming spring EP, Melrose. —Farah Zermane
Mura Masa: "Bbycakes" (ft. Lil Uzi Vert, PinkPantheress, and Shygirl)
I look forward to new PinkPantheress songs (and features) because of the inevitable games of "spot the sample" they provide. In this case, Mura Masa flipped U.K. garage group 3 of a Kind's 2004 single "Babycakes" into an opportunity for her, along with Uzi and Shygirl, to create an entirely new emotional atmosphere about new love. These heavy hitters make it one to remember. —Patrick Hosken
On his previous music release/comedy special, 2020's The Golden One, performer Whitmer Thomas announced his arrival boldly: "It fucking hurts to be alive!" His upcoming follow-up EP, Can't Believe You're Happy Here, due out March 25, takes a more muted delivery with an even funnier takeaway; Thomas plucks an acoustic guitar and longs to be "a Trevor" in a sea of them, listening to Joe Rogan, microdosing, gaming, vaping, and watching Fight Club. The EP was produced with Melina Duterte from Jay Som, which makes it essential listening by default. —Patrick Hosken
Deniz Love: "Think Less, Feel More"
In a constantly buzzing world, Texas favorite Deniz Love reminds us to stay present with his latest track "Think Less, Feel More." Bouncing between surf rock and indie pop, his raspy vocals bring a calming energy as he croons about the overwhelming cycles of anxiety and impostor syndrome, before resolving that "the only thing we have is what's right now." Its catchy four-word chorus is as tailor-made for screaming along in the car as it is for morning affirmations in the mirror. And while getting out of one's head is easier said than done, for three minutes, Love makes it feel less impossible. —Carson Mlnarik
Etta Friedman and Allegra Weingarten, the Brooklyn-based duo who helm Momma, are the epitome of cool without taking themselves too seriously. Their latest track, "Rockstar," is one that other artists will surely relate to. "Etta and I wanted to write a song about making it big, and becoming rock stars," Weingarten says in an accompanying statement. The video puts the band's sense of humor on full display as they pay a tongue-in-cheek tribute to music's most iconic rockumentaries. "It's also kind of like a manifestation — I think we shamelessly want all of these things to happen in our careers." —Farah Zermane
Mom Jeans: "White Trash Millionaire"
You'll dig Mom Jeans, a delightful pop-punk-leaning band from Berkeley, California, if you dig Jeff Rosenstock, or Blink-182, or rock songs that prominently feature trombones and trumpets but that are also not necessarily ska. And you'll definitely be won over by the colossal build of "White Trash Millionaire" — slow intro, group vocals, aforementioned brass — and one of my favorite lyrics of the year so far: "As the months get colder / I'm less sober." —Patrick Hosken