Blackpink Fired Up The VMAs With Debut 'Pink Venom' Performance
And Lisa thanked the Blinks for her first solo Moon Person: 'You're the most important ones'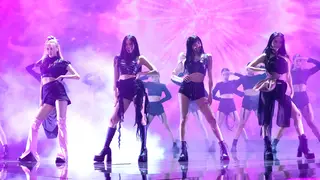 Blackpink are in your area! The K-pop group lit up the 2022 VMAs with a pinklicious debut performance of their latest single "Pink Venom." Here's how the girls' first appearance at the award ceremony went down.
As the stage blacked out, a pink cloud slowly floated above the stage with pink lasers tracing a triangle across the backdrop, accompanied by the plucking strings of traditional Korean geomungo. Colorful smoke melted across the stage as the quartet assembled with a crew of backup dancers. The stage then lit up with a triangular concrete backdrop.
"Kick in the door, waving the coco," Jennie raps during the intro. "Eat your popcorn, don't even think about cutting in / I talk that talk, runways I walk, walk / Eyes closed pop, pop no need to look." Lisa followed with her verse, referencing Rihanna's iconic hit "Pon de Replay." "One by one, then two by two / Everything is collapsing at the flick of my fingertip / It was flashy for a fake show / Makes no sense, you couldn't get a dollar outta me."
"It's tonight, I'm a venomous flower," Rosé sang in the pre-chorus. "After taking your soul / Look what you made us do." Jisoo concluded with: "A fire that will slowly put you to sleep / It's so beautiful, it's cruel / I bring the pain like." The backdrop shifted to flashing neon lights throughout the chorus. "This that pink venom," Jennie and Lisa repeated. "Get 'em, get 'em, get 'em / Straight to ya dome like / Whoa, whoa, whoa."
As the song reached the outro, the backdrop shifted to a 3-D effect of pulsating pink smoke that flashed and boomed with each thunderous bass rattle. "Brrah, ta-ta-ta, krrah, ta-ta-ta," the girls rapped three times. "Straight to ya, straight to ya, straight to ya dome like." They concluded the performance with each member placing a hand on her hip.
By the time they performed, Blackpink had already managed to take home a Moon Person trophy for Best Metaverse Performance; as a group, they are also up for Group of the Year later in the show. The band earned their first VMA award for Song of the Summer ("How You Like That") in 2020.
And shortly after they left the stage, they went back up — this time, for Lisa to accept the Best K-pop Moon Person for her self-titled track "Lalisa." Her group members stood behind her as she became the first K-pop soloist to win a VMA, at which point she gave thanks to their fans, the Blinks. "You're the most important ones," she said.
The 2022 VMAs aired live on MTV from Prudential Center in Newark, New Jersey. Find the complete list of winners right here and keep up with all of the night's biggest VMA moments.