Travis Scott's Mind-Bending 'Fortnite' Concert Was A Joyride Through Space
Here's a peek inside at his 'Astronomical' event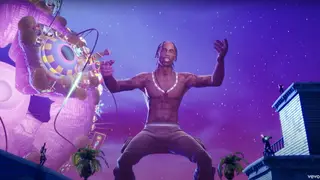 At Travis Scott's new "Astronomical" concert, I met skyscraper-sized clones of the rapper made out of fire, got granted special underwater breathing access to watch jellyfish backup dancers, and came face-to-face with a giant, carnivalesque planet with a pulsating speaker for a core.
This virtual experience happened via the online video game Fortnite and was announced on April 20 by Epic Games, surprising everyone used to Instagram Live concerts and livestreams in the midst of this global pandemic. Aside from just offering these otherworldly surprise moments for his fans, Scott also unveiled a new collaboration with Kid Cudi that looks to be part of a bigger moment involving the two artists: a formation of a group named The Scotts.
Shortly before the first of five shows kicked off on Thursday night (April 23), Scott appeared on Big Boy's Neighborhood to tease what was to come. "To be honest, it's just a full experience ... a different experience," he said. "Just giving people — without trying to say too much — give them just, like, a full experience of what I feel sometimes.  It's so much fire shit."
As it turns out, he meant "fire shit" literally. As the psychedelic intro began, following the living Astroworld planet zooming through space and time to bring Scott to his specially built virtual stage, I realized that Scott was about to take viewers on a trip unlike anything that we'd experienced before. Ten minutes and five songs later, I was breathless. And correct.
First, a planetary invasion set to "Sicko Mode"
Astroworld, the massive planet that Scott calls home, arrived to bring Fortnite's virtual conqueror to his new kingdom. Once it arrived, the rapper, the size of Optimus Prime, jumped from its surface and landed on the ground. The force of the impact sent me flying back hundreds of feet. I was then treated to a trampoline-filled performance of the song as giant Scott stomped around and alien astronaut holograms sensually danced around him. Like a ninja, Scott moved stealthily and continuously disappeared and reappeared clouds of enormous smoke.
Some stars were a little too close in "Stargazing"
The sky darkened to a bloody orange and showers of stars began to pelt me like golf ball-sized hail bullets. Scott eased into a cosmic rendition of  "Stargazing" and danced in the midst of this wicked weather. With Astroworld behind him appearing as an alien tangerine, Scott became so excited by the moment that he began to generate gigantic vines of lightning through his skin. It quickly turned into a nightmare when his epidermis began to melt down to the bone, revealing a mechanical skeleton for one nightmare-inducing minute. The lightning came alive in the form of backup dancers who flashed around the map along with towering fire clones who matched Scott's movements.
There was a surprise colorful appearance for "Goosebumps"
Scott became a living rainbow as the colors raced through the sky on their own roller coaster loops. If you ever wondered what a kaleidoscope would look like if it were detangled and had each of its colors placed inside of the washing machine at the same time, look no further. The hues eventually took over my skin and made me one of the rainbow's children.
"Highest in the Room" offered a look at the sea floor
It's ironic that for "Highest in the Room," Scott went extremely low in terms of elevation. The rapper fell into the water, with the impact of the massive rapper's collision with the ground sending me hurtling beneath the ocean's surface. He turned into a massive deep sea diver and performed with giant jellyfish while I was gifted with the ability to breathe underwater. Giant, watery clones of the rapper invaded the water along with meteor showers of debris.
From inside of a black hole, a planet's retreat looks nice for "The Scotts"
After a brief interlude set to Drake's "Sicko Mode" verse, where Scott's deep sea diver turned into a dancing astronaut, Scott premiered his heavily anticipated new song, "The Scotts," a collaboration with Kid Cudi, who says that it's also the name of their new group. Scott sent me flying into the atmosphere while I zoomed through the eye of a quickly moving tornado. From the left, Scott suddenly floated by while sitting on top of Astroworld, presumably heading back home to plan his takeover of this world. He briefly disappeared, and then Cudi's verse started while Scott walked around his planet in slow motion.
The show ended with me thrusted toward the center of a black hole, everything a blur except a gravitational singularity of pure white. The outline of a butterfly manifested itself, and before I could be sure of what I saw, the one-of-a-kind event was over. Just as I can gather what I saw, I'm eliminated out of a Fortnite battle royale. Things are back to normal, at least until Scott comes back. The next virtual show you can catch (following this morning's one at 10 a.m. ET), will be on April 25 at 12 a.m. ET.