Deem Spencer Swims Into The Deep End Of His Mind
The New York rapper adds a new layer of introspection and maturity to his trademark jovial teenage anguish with 'AdultSW!M'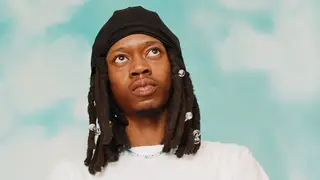 "When my music started becoming popular, there wasn't a lot of drill, and I wasn't particularly inspired to make whatever the New York sound was prior to that," explained Spencer, who typically styles his name all lowercase. "So when people started paying attention to me, I was already doing my own thing."
That outlier attitude has served Spencer well since making his debut with 2017's breakout EP We Think We're Alone. Spencer gained recognition for his ability to match experimentally lucid production with lyrics pushing hopeless adolescence through tracks like "There Was Plenty Time Before Us" and "Eve's Titties." It set the precedent for a run of music that feels one part lo-fi and one part R&B, especially on his latest album, AdultSW!M, out Friday (March 3). He doesn't mind those labels.
"I like calling myself a rapper, but clearly I don't just make rap music," Spencer said. "I don't only rap, but for simplicity's sake, I just keep it there. When people ask me, I say I make music." Spencer may offer the same creatively carefree vibes that earned him a legitimate following in previous releases, but AdultSW!M adds a new layer of introspection and maturity beyond the jovial teenage anguish.
By the time his debut full-length album, Pretty Face, dropped in 2019, Spencer's adolescent nihilism focused on heartbreak and was backed by even more progressive beats that felt daunting and luminous. The track titles put together spelled out the sentence "Really, I been tryna tell shorty how beautiful shorty is to me but shorty not tryna hear it from me."
His last album, 2021's Deem's Tape, was more digestible by Spencer standards. Tracks like "New Light" and "Wife Wife" featured a slight reliance on Southern rap bass, repetitive hooks, and simpler song structure alongside his humorous wit.
"Since I started making music and being a public face, I've always had this youthful approach to things," Spencer said. He's mainly used childhood photos for his cover art on the past three releases. AdultSW!M's is different, finding him in a watercolor painting of himself submerged in water. "I've always tried to keep a very childlike quality in my work because I never necessarily wanted to get away from that. I felt like that was something worth protecting. I want to represent people who want to maintain a bit of innocence."
However, Spencer's eccentricity didn't keep him from the emotions many artists at the cusp of fame can eventually feel, like creative insecurity and unfulfilled ambition. He sensed he would have to eventually evolve.
"One of the biggest things over the last few years that has shaped where I went to after Deem's Tape is I feel like I wasn't moving as much as I would've liked to have been," Spencer said. "The sense of being stagnant definitely shaped a lot of these things I'm talking about. It was a lot of, damn, I need to grow up."
Taking a more proactive approach to his art, Spencer began teaching himself how to produce, including building up his keyboard proficiency. The aim was to eventually make his music sound upbeat and to push himself creatively. He challenged himself to make "some real sweet sounds and stuff." Then, he began to look inward at his own life and goals.
The end result is his third full-length project, AdultSW!M. According to Spencer, the title is a new beginning artistically. Even though he wanted to represent people who didn't want to grow up too quickly and show vulnerability, AdultSW!M finds Spencer finally embracing adulthood.
"It's a lot of themes on these songs that I never necessarily wanted to talk about," Spencer said. "Things like comparing how life is now to what I always expected it would be, certain surprises and certain disappointments. I'm touching on a bunch of relationship shit and even speaking on my uncle's story, which is a part of my family's story."
That tale shines through on AdultSW!M highlight "Baby Boy," a track comparing his relative's life trajectory of selling drugs to his own. There's a self-realization in lyrics like "money, power, and respect isn't as real as love." Another track, "27," has Spencer looking into his own mortality through artists who have died at that age, like Kurt Cobain and Jimi Hendrix. Lead single "To Have It All" sees Spencer examining the roots of his own aspirations as a rapper, when he thought success meant having large sums of money.
"I feel like I was kind of raised that way," Spencer said. "It's so easy to want to compare myself to other artists when I'm in those times where I'm feeling stuff isn't moving. I had to ask myself what is really important. I have a lot of career-specific goals that really weigh on me because I want to be appreciated for how and what I'm saying. I want to represent for the quiet people, and that is hard."
The kindred spirits of peers appear on AdultSW!M via guest appearances from soulful singer Orion Sun, R&B artist DaVionne, and even ebullient rapper DRAM. "He hit me up on Instagram one day and just said he fucked with my music, and then we connected," Spencer said. "I sent him a bunch of songs, and he got on that one ['ungreatful you']. With this project, this is probably the most features I've ever done with other artists, whoever I thought could bring something real cool to it, and I think all the features did."
While Spencer dives deeper into his new lease on life, he's finding time to explore other avenues of his creativity, including screenwriting. He wants to write for film and TV, saying he has a few "solid" ideas. Until he can pitch them, Spencer remains in the deep end. But he's learning to love the water. With a new lease on life, Spencer is beginning to expand beyond the childlike safety net that made him a name in New York's alt-scene. Like a grown-up, he's ready to take on more risk.