Superviolet's Steve Ciolek Is Doing It Different Now
The former leader of beloved Ohio band The Sidekicks steps into a new season on 'Infinite Spring'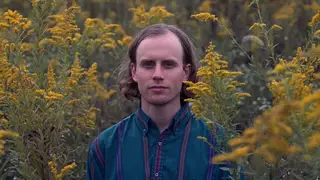 Steve Ciolek can help you with that nerve pain shooting down your leg. Throughout the 15 years he spent touring with his band The Sidekicks, his mates would ask him about aches and pains onstage or in the van. Ciolek, a vocalist and guitarist, comes from a family of physical therapists who were only a call away.
"Pain and the way you feel can be very debilitating," Ciolek tells MTV News. "Physical therapists have this knowledge about the body and what different things are dangerous to feel and what things you can push through. It's a lot more psychologically informed than I realized initially."
He would know. Since The Sidekicks split up in 2020, he's been hard at work, both on new music and his own studies into physiotherapy at the Ohio State University. The two dovetail nicely: The debut album of his new project, Superviolet, is out today (April 21), and it's called Infinite Spring, a reference to limitless possibility in the wake of a major seasonal change. Ciolek mentions volunteering with golfers whose chronic ailments halted their game.
"Now they have a different kind of adaptive device to use to play golf. There's special golf carts that anyone could use, if they needed to," Ciolek says. As someone who formed his band in high school, he's been digging "being there to support the way that our bodies change as we age."
The Superviolet moniker came to him in a rush of inspiration on a walk outside after the gray of an Ohio winter had finally receded. He connected the budding purple flowers with the songs he'd been working on since his band's dissolution. "The ideas were just right in your face," he says. There's a gorgeous through line from the lavender bulbs adorning The Sidekicks' cheery final record, 2018's Happiness Hours, to the blooming songs on Infinite Spring. The best of them, hooky numbers like "Big Songbirds Don't Cry" and "Locket," were actually fully fleshed out by the band before they parted ways.
As a Sidekicks fan, it's normal to pine for those versions. They're not hard to imagine: The band's drummer, Matt Climer, plays throughout Infinite Spring, continuing that musical partnership. The collaboration fits the vibe, just as The Sidekicks remain immensely easy to love. If you never got to witness their blistering power-pop live show — opening for acts like Jeff Rosenstock, Motion City Soundtrack, Against Me!, and The Menzingers — you missed out. How could you not root for a band called The Sidekicks?
The pandemic's arrival superseded any actual breakup post on social media. "It felt funny to even just announce that you're not a band, because no one was anything at the time," Ciolek says. When people kept asking about new music, they made it official in late 2022. By that time, Infinite Spring was already completed. It set Ciolek up to address the end of his band obliquely on the itchy first Superviolet single, "Overrater."
Its title nods to The Sidekicks' long-held reputation as perennial underdogs. ("Anyone who has ever called The Sidekicks underrated is legally required to pre-order this gorgeous record," Superviolet's label tweeted.) A lyric late in the song makes a sly reference to a new record they have no current plans to make: "Tell them to craft the plan / Surprise release sixth album as the greatest rock and roll band."
"It's completely about my experience just playing in that band and trying to just work through, as I like to call it, the competitive music circuit," Ciolek says of the song. "Where you're playing shows and trying to sell T-shirts and making a living off your art — just that whole idea about competition and capitalism and how that's intertwined with art and how it feels so gross."
But unlike the funny cynicism that pervades "Overrater," Ciolek's thoughts on his band's legacy are far sunnier. "Ultimately, most of our goals and the things that we were setting out to do were just guided by what was interesting to us and what seemed would be fun and exciting," he says. Midwestern by blood, he means it. After all, springtime is here, and the wild violets are in bloom.
Superviolet reveals fascinating new depths to Ciolek both as a writer and performer. His voice sounds more assured than ever — he threatens to "clean [someone's] clock" in a cozy near-hum on "Big Songbirds"— as the production dips into the vaguely psychedelic. That's thanks in part to Saintseneca's Zac Little, Ciolek's good pal and collaborator, who adds theremin, wind harp, and "digital goober" to these sunny tracks.
Thematically, "Overrater" is something of an outlier. "The giant neon sign on the imaginary stage behind these songs would probably hint at the overarching theme: falling in love," Ciolek recently wrote. The mauve wind of devotion blows gently but conspicuously on the acoustic "Good Ghost," perhaps the most delicate and beautiful song Ciolek has ever penned. It makes a compelling case for hauntings as ways to stay connected to those we love.
Along with the blossoming flora of Superviolet's Infinite Spring, Ciolek melds naturalistic imagery of salty beaches, bummed-out birds, and shady bowers with the more supernatural: apparitions, dreams, angels, and visions. The entire enterprise takes on the hue of a sunset, much like the stunning pink sky on the album cover.
Infinite Spring's title track lays out Ciolek's creative process: "I used to get the verse then I'd figure out the hook / Scribble it all down into a notebook / But I'm doing it different now / Trying it out loud." The exact truth of the lyrics isn't the point, though he mentions one change in process since leaving The Sidekicks. "I would write the song real quiet in falsetto, and then we'd go to play the song as a band, and we'd be really loud, and I'd have to hit all these super high notes that were really hard to reach," he says. "I was always like, why did I write all these songs so high?"
The mantra of "doing it different now" extended more to life writ large, as well as self-growth and his own relationships. When he and his wife, Kosoma, sang "Can't Hardly Wait" by The Replacements and Coldplay's "Yellow" at their wedding in coastal Florida last year, it wasn't a performance but an act of sheer exuberance. "We're not presenting this song and [saying], 'There's T-shirts in the back.' We're just playing songs. I'm just playing the song, and we're in love, and this is just this moment, and we're not going to do this again, and it's not building up to something else. It's just very pure and joyous."
Ciolek wants to keep bringing joy, whether through music, his planned work as a physical therapist once he completes his studies, or both. "I don't know what I'll end up doing with it, but it's a fun little thing I can think about right now," he says. The possibilities are infinite.