Drake Was The Only Person To Get 21 Savage A Birthday Gift In 2016
😔I woulda got 21 something 😔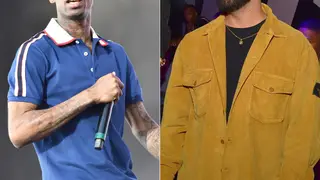 Do you think 21 Savage is thanking Drake later for taking care of him on his birthday? Did the thoughtful gift give 21 more life? Hopefully, nothing is the same for the fledgling friendship between the two stars.
Apologies for the Drizzy puns, but the release of Scorpion is imminent. It can't be helped.
In a recent interview with GQ, 21 told the magazine how Graham's red Ferrari 488 rental was the only birthday gift the Atlanta rapper received for his 24th birthday.
"Drake brought me one [Ferrari] for my birthday to ride around L.A," Savage said. "He the only one that got me something for my birthday that year. Don't nobody else get me shit but Drake."
Unfortunately, 21 doesn't divulge why no one got him a birthday gift in 2016. Did no one think of getting him a monogrammed knife or gold-plated hockey mask? The "Sneakin'" star also showed additional respect for Graham later in the interview, describing how the Toronto MC uses his platform to shine a light on new acts.
"Drake just a genuine-ass good-hearted person," he continued. "He did a lot of shit he didn't have to do. He do a lot of shit for up-and-coming rappers, period. I don't think he get his respect for that. Every fuckin' year, he pull a new artist up. Ain't no other artist on his level do that shit."
Read the entire interview at GQ.