Unexpected Arrival: How Bananas And Nany Entered 'The Challenge: Ride Or Dies'
Banany is together again!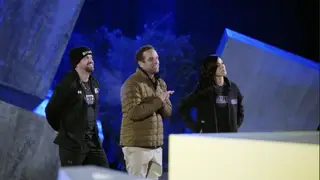 Johnny Bananas and Nany first competed on the same Challenge season nearly a decade ago on Rivals 2 (yes, 2013!). Then their relationship on the series was cemented when the Real World alums were partners on Battle of the Exes 2 two seasons later (they narrowly missed the finals thanks to Sarah and Jordan's eleventh-hour elimination vote) and then Team USA teammates on War of the Worlds 2. Now, the ride or dies are paired up on (you guessed it) Ride or Dies. A Banany reunion, years in the making!
But the veterans did not enter the Season 38 game on Day 1: TJ shocked the 12 remaining pairs right after the Birds were the first eliminated team against Tori and Devin in The Zone. 
"As you can see, anything can happen on The Challenge," the host told the suspicious players. "I told you, you gotta be careful who you can trust. Especially me."
Then, without further ado, TJ brought out "some of the greatest Ride or Dies of all time."
Veterans and rookies looked equally shocked to see the seven-time champ and two-time finalist unexpectedly enter. And then there was Devin's humorous take, which he yelled for all to hear.
"Ah, I'd never thought I would say it, but a sight for sore eyes!" Tori's partner exclaimed. Well, the two men do share an interesting history.
Perhaps Laurel, who beat Nany on Free Agents and emerged victorious next to Bananas,  summed it up best by stating matter-of-factly in a confessional that "this completely changes the game." 
But how? Be sure to keep watching Bananas, Nany and the rest of the cast every Wednesday on The Challenge: Ride or Dies at 8/7c.