Travis Scott Called Kylie His 'Beautiful Wife,' So Naturally We Have Questions
First comes a secret pregnancy, then comes a secret marriage?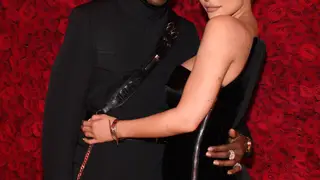 Kylie Jenner managed to keep her pregnancy with Stormi top-secret, but is it possible she's keeping a marriage under wraps as well? That's what some fans are suspecting, after her boyfriend, Travis Scott, recently referred to her as his "beautiful wife."
The sweet but somewhat shocking shout-out happened during Scott's Astroworld Festival performance in Houston over the weekend. As captured in the fan-shot video below, the "Sicko Mode" rapper said onstage, "My beautiful wife, she came out. My beautiful daughter, she's here too. I love y'all so much."
Scott further stoked speculation when he commented, "I love u wifey" on Jenner's Instagram post congratulating him for his big weekend. Alongside cute pics of Scott and their daughter, Stormi, she wrote, "Only the people around you really know how hard you work. I love to watch you make all your dreams come true. Your first festival. We're so proud of you. We love you."
The couple have certainly kept aspects of their relationship super private — after news first broke that Jenner was pregnant with Scott's daughter, she essentially vanished from public appearances. And when Stormi finally arrived, they kept her out of the spotlight, only sharing photos and other details after a few months had gone by. A secret marriage wouldn't be impossible to pull off, but it's also totally feasible that they're just using cutesy pet names for one another. Or, they're just messing with all of us. After all, this isn't the first time they've triggered engagement/marriage rumors.
Meanwhile, Scott continued basking in the love this weekend when he was honored with "Astroworld Day" by the city of Houston on Sunday (November 18). During his speech at City Hall, he praised his hometown's resiliency, as Houston recovers from the impact of several devastating hurricanes.
"One thing about Texas, we stand strong," Scott said. He also expressed his desire to give back to the city, addressing the kids in the audience by telling them, "I know it don't seem like it because you can't drive without a driver's license, but you are the future."
Between his chart-topping third album, the birth of Baby Stormi, his own festival, and an honorary day in his hometown, Scott is clearly riding a high this year. A wedding would only be the cherry on top.