Why Is Logic Calling Out Harry Styles And Katy Perry On '44 More'?
Sign of the Times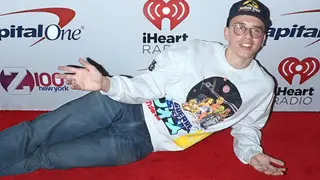 Logic has a history of speaking his mind. He addressed Trump's "shithole countries" comment during his Grammys performance of "1-800-273-8255", and now he's set his sights on two pop stars. On "44 More," the Maryland rapper sent slight shade at Harry Styles and Katy Perry.
During the sequel to "44 Bars," Logic raps, "Sold more albums my first week than Harry Styles and Katy Perry / If that ain't a sign of the times then I don't know what is, man this shit is scary." So how true is his claim?
Logic's 2017 album Everybody was released on May 5. According to Billboard, the album sold 247,000 equivalent album units in its first week. Logic choosing Styles and Perry for comparison potentially has to do with Harry Styles releasing on May 12 and Witness dropping on June 9, which represented competition on the charts for Everybody.
Regardless, the rapper's assertion about first-week sales is accurate. Harry Styles sold 230,000 units in its first week on the Billboard charts, while Witness sold 180,000.
"44 More" isn't the first time Logic took aim at a pop star by comparing sales numbers. On 2016's "Slave II," Logic spits, "And my last album went number one / So what that mean? / I did better than you, you, you / Sold way more than that pop bitch."
Let the sales battle continue.