Is Kendrick Lamar The New King Of Wakanda On Latest 'Black Panther' Song?
He joins Future, Jay Rock, and James Blake on 'King's Dead'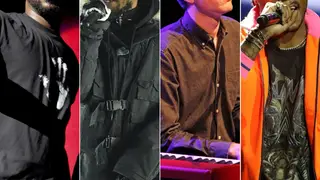 In prime Kendrick fashion, "King's Dead" finds him delivering a blistering verse that steals the show. Within his lyrics, he conjures the character of Eric Killmonger, the adversary of Black Panther in Marvel's upcoming movie. The hatred of Killmonger oozes through Kendrick as he spits from the vantage point of the vengeance-obsessed comic book villain.
Here's a list of what Killmonger Kendrick thinks T'Challa can go screw (to use a more family-friendly term): integrity, pedigree, feelings, culture, and various family members.
The verse ends with a more direct shout-out to the film's villain:
Who am I? Not your father, not your brother
Not your reason, not your future
Not your comfort, not your reverence, not your glory
Not your heaven, not your angel, not your spirit
Not your message, not your freedom
Not your people, not your neighbor
Not your baby, not your equal
Not the title y'all want me under
All hail King Killmonger