Cardi B Was Attacked By A Cheetah While Filming Her 'Bodak Yellow' Video
'She's a trooper, man'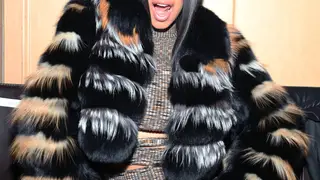 Cardi B may talk up a big game, but the dependably fierce rapper met her match on the set of her "Bodak Yellow" music video last year.
In a new interview with Genius, director Picture Perfect discussed the difficult, Dubai-set video shoot, which involved filming with a few wild animals. There was a camel — which Cardi gamely mounted, bloody shoes and all — and a cheetah, who ended up being way less of a team player than they had hoped.
"I didn't know how hard it was gonna be to get a cheetah out there," Picture Perfect said. "We shot this scene we didn't use, and he attacked Cardi in that scene."
At the 1:51 mark in the video below, you can see the raw footage he's referring to. Cardi stands a couple feet away from the wild cat, holding him by a leash. Then, in the middle of rapping her verse, the animal snaps at her and she immediately calls out, "No no no, come hold him!"
In the end, the crew secured another cheetah who was sedated after a heavy meal of "about six pounds of deer meat" (yum). He was so chill, in fact, that Cardi was able to pet him on the head (you can see that shot in the video's final version). Picture Perfect also talked about wanting to put a cheetah next to Cardi in a car — but thankfully he had a change of heart about that.
"She's a trooper, man," he said. Seems like an understatement!