Bop Shop: Songs From Yola, Taemin, Sigrid, And More
This week's picks scream about being alive, being in love with yourself, and being a butterfly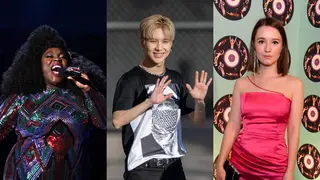 The search for the ever-elusive "bop" is difficult. Playlists and streaming-service recommendations can only do so much. They often leave a lingering question: Are these songs really good, or are they just new?
Enter Bop Shop, a hand-picked selection of songs from the MTV News team. This weekly collection doesn't discriminate by genre and can include anything — it's a snapshot of what's on our minds and what sounds good. We'll keep it fresh with the latest music, but expect a few oldies (but goodies) every once in a while, too. Get ready: The Bop Shop is now open for business.
"You're stronger than anyone but still so fragile," Yola sings as she wades through her own self-doubt and insecurities on "Stand For Myself." But with help from Hannah Vasanth, The Black Keys's Dan Auerbach, and The Highwomen's Natalie Hembry, Yola crafts a song ultimately designed to be announced, with the fuzzy guitar lines acting as fanfare horns decreeing a mental level-up. "I'm alive!" she shouts by the tune's end, her voice curling like talons. She'll make sure you know it. —Patrick Hosken
Half Waif: "Sodium & Cigarettes"
On "Sodium & Cigarettes," Half Waif's Nandi Rose takes off the rose-colored glasses once and for all. The Hudson Valley-based indie artist layers shimmering harmonies over a mournful piano melody, transmuting the ruin of an ill-fated relationship into a hauntingly beautiful ballad. "It's too late now to start taking it back," Rose realizes, "so I better be looking forward." —Sam Manzella
If you came over to my apartment in 2018, I probably made you watch Sigrid's "Strangers" video because I was full-on obsessed with the Norweigan pop star's pulsing ode to a pretend love affair. Her new track, "Mirror," is another emotional anthem, but this time it's about falling in love with yourself. After Dua Lipa, Jessie Ware, and Kylie Minogue's latest albums, we've been told that "disco is back" — but it never left! For some of us, disco is not a trend that comes back around every few years, but a way of life — something Sigrid clearly subscribes to. In her confident new bop, Sigrid sings about falling in love with who she sees in the mirror, all while delivering a solid self-love dance-floor filler. Like in "Strangers," Sigrid's "Mirror" video features high-waisted jeans and energetic choreography, including an epic desert dance-off against herself. Sigrid always understands the assignment. —Chris Rudolph
Mustafa ft. Sampha: "Capo"
It's been four years since Sampha gave us the masterful ballad "(No One Knows Me) Like the Piano," so it's dreamy to hear him sing over the keys again. This time it's thanks to a lilting and busy melody from Mustafa, who spins a partially spoken-word tale about his upbringing. That's just the surface of the poet and singer-songwriter's new album, When Smokes Rises, one of the most singular folk releases in some time. —Patrick Hosken
It has become common knowledge to expect the unexpected when it comes to Taemin (or any SHINee members for that matter), but his work on solo single "Advice" has exceeded any and all possible expectations. Accompanied by an electrifying, blue-hazed visual, "Advice" gives fans rare insight into the man behind the idol, expressing his inner monologue in a way that is both lyrically and melodically unique. Taemin is consistently breaking the boundaries of what is expected of a K-pop idol, and continues to push that narrative with "Advice." —Sarina Bhutani
Foxing: "Where the Lightning Strikes Twice"
We know lightning doesn't strike the same spot twice, so when St. Louis arty rock band Foxing singer Conor Murphy says he wants to go to the place where it does, you know it's a real ethereal ask. But Foxing have always been ethereal, merging dream pop and emo grandeur with whatever the hell they want for a decade. Their latest album, Draw Down the Moon, is another hearty blend; begin your fascination with "Where the Lightning Strikes Twice" and get more feet moving to its marching beat. —Patrick Hosken
Ora the Molecule: "Die to Be a Butterfly"
Looking for off-kilter yet immediately engrossing electronic pop? Look no further than Norwegian artist Ora the Molecule, whose uniquely icy sound on "Die to Be a Butterfly" will leave your blood cold. This week, it got four equally singular remixes — from Justin Jay, The Egg, Terr, and Olefonken — in keeping with its psych-minded approach to avant-pop. Get lost in it. —Patrick Hosken