Scarypoolparty's 'Los Angeles' Has A Song For Every Mood
The SoCal musical polymath breaks down his latest EP and takes us through, mood by mood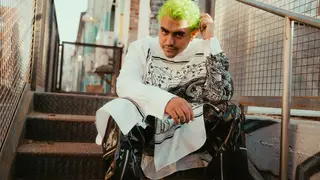 Alejandro Aranda spent a season on American Idol, but he's always been a being of his own creation. He performed technically dazzling original compositions as part of a showcase that tends to favor belting covers. He greeted judges Katy Perry, Luke Bryan, and Lionel Richie with an understated "What's up, homies?" during his audition. And since 2019, when he released his stark, genre-agnostic debut Exit Form, Aranda has used his major-label platform to wedge the weird, hard-edged sounds that fuel him into a mainstream pop career. No easy feat, but Aranda is such a gifted stylistic polymath that it magnetizes him; his songs blend industrial darkgaze, soulful trip-hop, mathy heaviness, and dizzying piano rhapsodies into a recording and performing alias he calls Scarypoolparty.
The staggering result, seemingly impossible in the streaming age, is something wholly his own, a path not beholden to trends or dictated by focus-grouped nostalgia. It's the cold, metallic Queen of the Damned soundtrack filtered through the warm lights of his home, Los Angeles, and of Aranda's own lived experience. His new EP, titled after the city itself, captures what it's given him: the emotion, the part-time jobs, the long talks, the longer drives, and every moment in quarantine.
"A lot of these songs were definitely lockdown songs," Aranda tells MTV News. "I think a majority of them were self-reflection on where the city is, where I live, and daily life — daily going out and trying to do things, and you can't, and you have to stay inside and make sure everything is OK in that area."
For last year's Doom Hologram, Aranda recorded vocals directly into his MacBook, unknowingly prefacing the Zoom-call collaborations he'd rely on finalizing this new EP. The brevity of Los Angeles as a four-song EP likewise allows Aranda to tighten up his own arrangements, making it his most accessible collection yet. Instead of downbeat, seven-minute meditations or hourlong piano improvisations, he leans into pop structures even as he rushes toward the horizon fusing trap, classical piano, and cocktail bravado. He even reined in some of his more experimental tendencies: "Originally, I had three songs on the EP and then I had this metal song that I was going to throw in there, and I was just like, you know what? I want it to make sense."
The result is Los Angeles in its many shades, cohesive yet sprawling like its namesake. Below, Aranda breaks down the EP track by track and mood by mood.
"Universe" ft. Nothing, Nowhere
Listen to it when you're in the mood for: "drop-top Mustang, just blasting the music and having fun."
Key lyric: "Feeling like a sad boy trapped in disguise / Highest in the Zoom call, that's no surprise"
Scarypoolparty says: "I have so many gigabytes full of recorded piano. Any place that I find a piano, if I could record it, I'll do that. I'll play probably an hour or two of just stuff and I'll record it and then I'll see what fits into a beat. And sometimes, I don't get anything for weeks on end. I think it came out pretty cool because it was just out of nowhere, just a spur of inspiration.
"With Nothing, Nowhere, he's amazing, man. I feel like his contribution to the song elevated it, because the stuff that I'm saying in the verse and the chorus is out there, in terms of it's not taking itself too seriously. I feel like it's an awesome thing that you can just totally trust that he's going to send back something that's dope. He just killed it."
Listen to it when you're in the mood for: "a love song of someone that's learning and someone that's going through every emotion that you can think of."
Key lyric: "Your love, your love, your love is really overdone / It's overdone"
Scarypoolparty says: "This song is actually a pretty old rendition of this R&B album I was making. And so I had this idea and I just did it into my phone and EQ'd it a bunch and I just put it in there, doing some flute. It's just a really random song, but the song is dope. That's the way I work. I'm really random. I make a lot of songs that sound like they belong in Looney Tunes or songs that [make] you want to go to a jazz club. It really matters, too, what I'm watching, because I've been watching a lot of Curb Your Enthusiasm and I feel like Larry David is my spirit animal. And I was like, man, let me just throw in some flute on this track.
"The lyrics are very much like somebody that's overdoing whatever they feel is right, and the other person just trying to tell them, 'It's over, it's done.' I don't have too many personal experiences like this, but I've had some people and some things that I've seen that, in terms of approaching friendships, relationships, and a lot of these things — sometimes I think, even for myself, seeing how people can overstep their boundaries in a way, and they don't know why."
Listen to it when you wish someone would say: "Dude, we're all going through this, man. We're all here for each other, and this is a heavy topic, and let's talk about it."
Key lyric: "Do you notice that I'm really fuckin' broke? / I can never find you / But you never mentioned that you had a problem with your medication"
Scarypoolparty says: "I feel like the heaviness of drug abuse and opioid abuse is huge. It's huge. And personally going through things with my family or friends or whoever it is, it's always this thing of — people don't want to approach it and people don't want to talk about these things and understand that it's OK to talk about these things. The word 'paradise' is just — for instance, we're in Los Angeles in California and we're in a beautiful state, yet if you don't approach these things, it can be the worst thing for you. If you approach it in a way of just understanding that we're all human, things will get better and things will become a paradise.
"My thing is drums. I love drums. Drums are usually the first thing that I write to. Even with acoustic songs and piano songs, drums have to be there. With this song, I had this bassline and then legit, I am not even lying, I was listening to 311, and I was listening to 'Down.' That song is so dope. And so I was like, man, it would be really cool to make a song that's in this vibe. It feels like SoCal in a way, just like California, driving down the coast. And so I wanted to really put that in there, and I was like, well, let me make the rhythm section really bump."
Listen to it when you're in the mood for: "that darkness-to-light feel."
Key lyric: "Some might say that it's a mistake / To love someone who doesn't love you / But I'm hurting here inside this room"
Scarypoolparty says: "I was listening to Nick Cave and then The Birthday Party and then I started watching some David Lynch films and I was like, man, it would be really cool to make a lounge jazz track that has to do with someone just starting out the track with some really deep vocals. And that's basically the idea of it.
"I feel like there's a darkness to it. The first verse that I'm singing is, 'My love is broken in design.' It's almost like someone that grew up really hard in the heart, been through some things, and doesn't know how to show expression. And then by the chorus, you hit this thing where it's like, 'Hold me in your arms.' I really wanted the music to really just breathe."