Taylor Swift's 'You Need To Calm Down' Video Is Full Of Easter Eggs — Let's Break Them All Down
There's so much to unpack here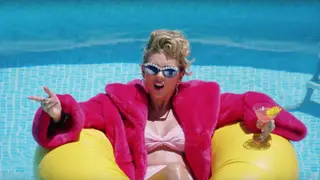 As promised, Taylor Swift dropped the highly anticipated music video for her bright and pride-filled new single, "You Need To Calm Down," this morning (June 17) on Good Morning America. Quickly since its release last week — and at just the right time given that it's Pride Month — the song has already become an LGBTQ+ anthem. Packaged in a box that's perfectly pop, the song takes aim at haters and homophobes while spreading a digestible message that's important for all to hear: We support and love the LGBTQ+ community, and we reject those who don't.
Unsurprisingly, the new video is just as direct as the song itself, and Swift even rallied together some very familiar faces to help drive home the single's message of love and acceptance. Ellen DeGeneres, Adam Lambert, Ryan Reynolds, Laverne Cox, Ciara, the cast of Queer Eye, Jesse Tyler Ferguson, Hayley Kiyoko, RuPaul, and several others were called in to be a part of the star-studded video. Even Katy Perry, who was engaged in a longtime feud with Swift, made a cameo, further proving Taylor's point that it's much easier to spread love rather than hate.
But even though the video's main message is clear, we all know that there's typically way more to a Taylor Swift music video than what's on the surface. Take the "ME!" video, for example. Just about everything that was packed into that roughly four-minute video alluded to something else fans could expect from her upcoming seventh studio album, which we now know will be titled Lover. And while Swifties did an excellent job dissecting each and every Easter egg their queen left for them when the video was released, they're also well-aware that making these small discoveries is part of what makes being a fan so fun.
That said, it should come as no surprise that the "You Need To Calm Down" video came full of even more clues for diehard Swifties to uncover. Fortunately, we've made the process a bit easier for you by taking the magnifying glass out ourselves and combing through all the wildest fan theories on social media. Here's what we found.
For many Swifties, the framed quote that says, "Mom, I am a rich man," was one of the first Easter eggs to jump out at them upon watching for the first time. However, it's important to note that these particular words were never said by Taylor herself. In fact, the quote comes from a 1996 interview with Cher, and it was actually the pop icon's response when her mother suggested that she should settle down and marry a rich man. (Yeah, right!)
While the framed quote definitely makes a statement, it's unclear at the moment just how it will link back to Lover. Knowing Taylor and her attention to detail, though, it'll all make sense eventually — likely when the album drops on August 23.
A not-so-subtle hint at track 5
Another more obvious clue came when Hayley Kiyoko shot a bow right into a target labeled "5." As all true Taylor stans know, the fifth tracks on Tay's previous albums have been some of the most heartbreaking, including "Cold As You," "Dear John," "All Too Well," and many other tearjerkers. This could only mean one thing: Track 5 is going to be an emotional one, and are we ready for it? Probably not.
It also shouldn't be overlooked that Hayley is the one to shoot the arrow here. More likely than not, this could mean that track 5 on Lover is a collaboration, which is something fans have been dreaming about ever since they performed "Curious" together on the Reputation tour. Not to mention, Swift has been hinting at track 5 for a while now.
One of the harsh realities of being a Taylor Swift fan is that most of the time, things only make sense in hindsight — like her recent interview on Ellen, for example, where Taylor jokingly asked if the talk show host would like to be featured in one of her upcoming music videos. Turns out, that was another hint. Ellen appeared in "You Need To Calm Down" getting a tattoo by none other than Adam Lambert.
The tattoo, which says "Cruel Summer," could literally mean anything, but Twitter's best guess is that it's the title of one of the songs on the upcoming album, and possibly her next single. On the other hand, it's worth noting that Kanye West has an album of the same name, and given their history, this could just be shade.
We all know that watches only go up to the number 12, but when Taylor peers down at her watch in this scene, we see that the numbers go all the way to 13. This, of course, is an ode to the pop star's favorite number, and it's definitely not the only time she references it in the video. It's actually shocking how many ways she's found to throw 13s all over the place.
Ryan Reynolds painting the Stonewall Inn
If you thought perhaps there was an Easter egg hidden in the brief scene where Ryan Reynolds was painting on a canvas, you'd be correct. Upon closer inspection, the actor is actually painting the Stonewall Inn — the site of the 1969 riots that started the LGBTQ+ rights movement. Taylor also performed at the New York City landmark on Friday night in a display of solidarity.
The red dice as a possible album countdown
Did you notice those red dice in the music video? According to some fans, the numbers on the dice add up to the number of days left until Lover's release. The problem? Fans are coming up with a few different numbers, and for many, the mathematics are simply not checking out. (For what it's worth, Lover is still 67 days away.)
The hair, the stars, the necklace
In this scene alone, there's a lot to unpack, so let's start with the hair. Not only is Swift rocking the rainbow hair of our dreams in this portion of the video, but many fans were quick to point out that colors match the bisexual flag. Of course, we love an inclusive queen, and we also love her commitment to continuing her "13" motif as the video progresses. If you look closely, you'll notice that the number is on her necklace, and there are also 13 stars on her shirt. She's nothing if not detail-oriented.
A mailbox exclusively for love letters
Clearly, love is a major theme throughout this music video, so the filled-to-the-brim mailbox that says "love letters only" could very well just be an on-theme detail rather than a full-blown Easter egg. However, fans think there's a chance this could be another hint, and while the future Lover connection still remains to be seen, it's possible that she'll squeeze something about love letters and mailboxes into the lyrics somewhere. After all, that's kind of what she's known for.
A bottle of pink champagne
You're going to want to hold on tight, Swifties, because this Easter egg has the possibility to turn into the pop collaboration of the century. After all, Ariana Grande just so happens to have a song called "Pink Champagne," which is why some fans are utterly convinced that a duet is on the way. But not so fast — other theories suggest that "Pink Champagne" will merely be a title of one of the songs on the album, and not necessarily a collaboration at all. Still, we're going to roll with this Ari collab theory while we can because, wow, that would be epic.
Katy Perry's cheeseburger costume
Ready for a case of the chicken or the egg? If you moved past the shock of Taylor and Katy putting their rocky past behind them, you may have noticed this isn't the first time the "Never Really Over" singer has dressed up as a cheeseburger. In May, Perry also wore a burger costume to the Met Gala — but was this outfit a subtle (if outlandish) preview for the "You Need to Calm Down" music video, or was it the inspiration for what ultimately inspired their looks for the epic scene? Hmm...
The homophobic protesters
The "ME!" singer made another reference to her favorite number in the shot with the aerial view of the protesters. If you count the amount of people protesting, it comes out to 13. Again, this could just be another opportunity to stay consistent with the use of her favorite number, or perhaps it's an even bigger nudge toward track 13 on the album.
The reference to an anti-LGBTQ+ senator
At first glance, the misspellings in the homophobic signs held by protesters might seem like a statement against their uneducated and ignorant views toward the LGBTQ+ community. And while that's certainly part of it, we'd like to turn your attention to one particular sign, which says, "Get A Brain Morans!" While staying on track with the spelling errors, this sign also seemingly calls out Kansas senator Jerry Moran, who's taken an anti-LGBTQ+ stance throughout his career in politics.