Find Out How The Gladers First Met In This 'Maze Runner' Comic First Look
An exclusive peek at Dylan O'Brien in his latest comic book form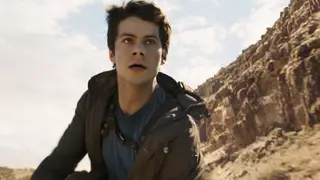 You may have thought all of the new Maze Runner content for the year came out with The Death Cure, but fans will find one more surprise in store with the third film's home release: a comic book detailing Thomas, Teresa, Newt, and Minho's origin story in the WCKD world. MTV News has an exclusive look at the quad's very first meeting in The Maze Runner Origins Comic Book.
Writer T.S. Nowlin — who also wrote the screenplays for all three Maze Runner films — was excited to dive beyond the story in the movies. "Since the Gladers arrived in the maze with their memories wiped, there's a whole prequel component to the trilogy that we never got to explore in the films. And given that The Death Cure offers a conclusion to the Gladers' journey and a farewell to so many beloved characters, we thought it would be fun to explore how some of those key characters and relationships began," he said.
And it will be especially fun for fans who have been eager to see the many nods to Thomas's (played by Dylan O'Brien) past come to life. "In the movies, we repeatedly invoke Thomas's past history with WCKD, but we never had the opportunity to explore that history in any detail. I particularly liked seeing the first meeting between Thomas and Teresa and casting it as an almost mundane encounter. It's a simple moment that's only given extra weight based on our knowledge of where their stories are going," he said.
Peep the sneak peek above. The Maze Runner Origins Comic Book is an exclusive gift with purchase of Maze Runner: The Death Cure or the Maze Runner trilogy bundle on 4K, Blu-ray, DVD, iTunes, or Vudu, available digitally on April 10 and physically on April 24.