Watch Drake Give Away $1 Million In Heartwarming 'God's Plan' Video
Is Drake the new Oprah?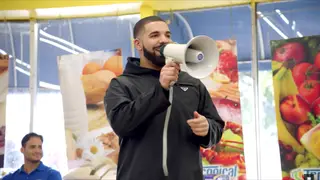 Try not to cry during the "God's Plan" video. We dare you.
Today (February 16), Drake dropped the video for his No. 1 record, and it is indeed a tearjerker. The Toronto rapper called the visual directed by Karena Evans and produced by Director X, "the most important thing I have ever done in my career." Considering the rapper gives away almost $1 million, it isn't hard to see why.
The "God's Plan" music video starts with three frames that read, "The budget for this video was $996,631.90. We gave it all away. Don't tell the label..." After thatm Drizzy spends nearly six minutes taking viewers through the journey of giving away a little cheer.
However, the most heartfelt moments are when Drake surprises fans and their families. During these times, it is hard to tell what they are more happy about, the money or meeting Aubrey.
Rap is entertaining, and watching the battle for the throne will never get old. However, sometimes what makes hip-hop truly special is watching rappers give back to the people who live, support, and cherish their music.