Why Don't We Tell Us What It's Like Working With Ed Sheeran On 'Trust Fund Baby'
'Ed is a god'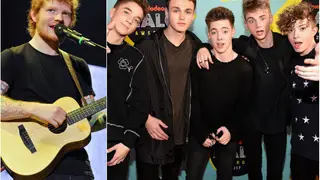 Last week, rising boy band Why Don't We dropped their first new song of 2018: the booming, horn-filled "Trust Fund Baby." It's a total earworm, which is no surprise, considering the song — about a guy who pines for a self-made girl — was written by pop king Ed Sheeran.
Speaking with MTV News correspondent Gaby Wilson, Why Don't We — comprised of Daniel Seavey, Zach Herron, Jack Avery, Corbyn Besson, and Jonah Marais — talked up their "relatable" new single, explaining why it's their biggest one yet.
"This is probably the song that we're all most proud of, just because of who it's with," Seavey explained. "We got the pleasure to work with [producer] Steve Mac and Ed Sheeran, our label mate. We just went in and knocked this out with them, and it was the best time."
After recording their previously released EPs — like 2016's Only the Beginning and 2017's Invitation — in a home studio, the band upgraded to a huge, professional studio for "Trust Fund Baby." Even though it was a shocking change of pace, they weren't jaded by the experience — especially with someone as "super humble" as Sheeran by their side. The guys praised him as "very generous," a "genius," and "a god," and picked up some valuable insight into what makes Sheeran such an impressive artist.
Describing what they learned from the singer-songwriter, Seavey said, "Seeing how passionate he still is with all of his success. He could right now be like, 'I'm done' and be good for the rest of his life, but it's not about being good for the rest of his life. It's about the music."
For Why Don't We, there's plenty more of that to come. The group is readying their debut full-length album for release this year, and will kick off their Invitation Tour on February 27. So far, 2018 is looking pretty dang good for these guys.