Kendrick Lamar Aced His Job Interview For The 'Black Panther' Soundtrack
Good Kid, M.A.A.D Résumé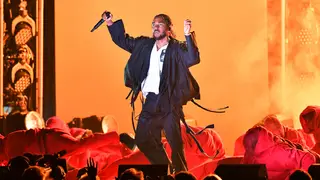 Black Panther is almost upon us. With stellar reviews rolling in and an amazing cast, the only thing left to fawn over before the movie is the upcoming soundtrack. Black Panther: The Album is dropping this Friday (February 9) and is curated and produced by Kendrick Lamar and Anthony "Top Dawg" Tiffith.
In an interview with NPR, Ryan Coogler described how a meeting with the Compton rapper led to Kendrick getting one of the best jobs in the world.
"I've been a massive Kendrick fan ever since I first heard him, since his mixtapes, and I've been trying to track him down," says Coogler. "Eventually I caught up with him a couple years ago — first with Anthony 'Top Dawg' Tiffith, who runs his label, and then later on sat down with him and Kendrick and just spoke about much his music affected me. He talked about my movies that he had seen, and we said if the opportunity comes, we'd love to work with each other on something."
Coogler also mentions how Marvel supported his vision to have Kendrick involved in the making of the album.
"So we met, and we talked," Coogler says. "And to Marvel's credit, they really supported the idea of getting some songs from him. At first, he was just going to do a few songs for the film, and then he came in and watched quite a bit of the movie, and the next thing I know, they were booking a studio and they were going at it."
So far three songs have been released from the upcoming Black Panther soundtrack. The first single was the mellow and inspirational "All The Stars" featuring K. Dot and SZA. Next, Jay Rock was invited to the TDE-meets-Marvel meet-up with "King's Dead" featuring Kendrick, Future, and James Blake. Lastly, The Weeknd arrived at the Wakanda after-party with the spiritual gothic-meets-Toronto club vibe "Pray For Me," which is also supported by Kung Fu Kenny.
You can read the entire interview at NPR here.