Why 2018 Was a Transformative, Groundbreaking Year for QTPOC Creators
In 2018, we saw more Black and Brown LGBTQ+ artists than ever creating from a place of truth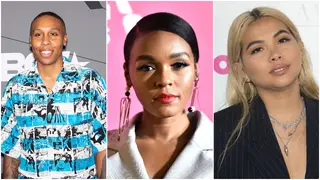 From films to television to music, 2018 marked a much-needed change in the way we saw queer representation in entertainment. With certain Black and Brown LGBTQ+ artists owning their talent and identity, a common theme throughout most of the year was visibility.
In 2018, we saw more Black and Brown LGBTQ+ artists creating from a place of truth while centering the voices of others that are often lost in traditional media. We've watched groundbreaking albums (Expectations, Dirty Computer) and television shows (Pose, Vida) premiere while being reminded that Black and Brown LGBTQ+ entertainers aren't just innovative, but transformative.
Here's a recap of Black and Brown LGBTQ+ visibility in entertainment for 2018.
A drag queen who became well-known for speaking her mind, this Chicago native made a name for herself by calling out the lack of positive depictions of Black drag queens in the RuPaul's Drag Race franchise. Known for often being direct when discussing topics of racism and injustice on the show, The Vixen remains very vocal about the need to address inequality on television. "Sometimes saying the uncomfortable thing is the most important thing to say," she noted when reached for comment via Twitter direct message. "When you speak out against real issues, there are people in the room whispering, 'Thank you.'"
Dubbed the "Lesbian Jesus" by her fans, Hayley Kiyoko continues to use her music as a way to encourage LGBTQ+ individuals to embrace all of who they are. She used her major label debut Expectations to inspire conversations around what it means to be honest with oneself about their identity and how to redefine what we think about queer women in the music industry. Time and again, she's stated that she never felt like the industry made room for queer Asian women like herself. But since the release of her album, she's realized that her voice and work is inspiring a legion of young QTPOC women to accept themselves wholeheartedly and create that space for themselves.
As someone who continues to make a name for themselves in both film and music, Keiynan Lonsdale spent most of 2018 reminding Black and Brown individuals that they can achieve their goals while being authentic to their queer identity. "I just want every kid to know that you you can live your dreams and wear dresses," he said on-stage at the 2018 MTV Movie & TV Awards. Keiynan's music also shares the same message. On the song "Kiss the Boy" — released around the time of Love, Simon, a film in which Keiynan starred and was inspired to publicly come out by — he reminds LGBTQ+ folks that they are not alone in their journey and that there is no such thing as a "normal" lived experience. For Lonsdale, 2018 was a year of finding authentic ways to share a piece of his journey while helping to validate the lived experiences of others both on and off the TV screen.
Also known for his breakout role in this year's hit film, Love, Simon, Clark Moore continues to be vocal about the lack of Black and Brown LGBTQ+ storylines in film. He noted in several interviews that his role as Ethan in the movie — a vocal, unapologetic, femme character who is the only gay person out at his school – challenged the way Hollywood thinks about Black and Brown queer experiences in film. "There are plenty of stories to tell," Moore told Teen Vogue earlier this year, while discussing how Black gay characters are usually cast as the best friend, the supporting character, or the comic relief to the primary narrative. Clark is reminding viewers that the only way to change how we think about Black and Brown stories is by encouraging more people to speak openly about their identities, experiences, and what makes them unique.
This year, we saw Janelle Monáe speak more candidly about her own identity, while encouraging others to embrace all facets of who they are with the release of Dirty Computer: "Being a queer Black woman in America, someone who has been in relationships with both men and women — I consider myself to be a free-ass motherfucker," she said in a Rolling Stone cover story. While sharing that she is pansexual, Monáe also went on to say that her journey of self-discovery is ongoing and encouraged others to dig deeper when thinking about visibility and inclusion in music.
Tanya Saracho & The Cast of Vida
Among this year's many groundbreaking innovations, we also saw the first mainstream television series that centered the narratives of queer Latinx women. The show, Vida, which aired on Starz, not only touches on topics related to gentrification and the camaraderie of Latinx women, but deals with the discrimination that LGBTQ+ Latinx people often face. Showrunnner Tanya Saracho's work on the series reminds us that the show not only gives visibility to its Latinx characters, but also a voice to its queer Latinx writers.
2018 has been a strong year for Black LGBTQ+ women and many of us have Lena Waithe to thank for that. From creating the critically-acclaimed Showtime series The Chi to donning her queer-inclusive Met Gala outfit, Waithe is reminding you that Black and Brown LGBTQ+ people are no longer hiding in the shadows. After accepting her Trailblazer Award at the 2018 MTV Movie and TV Awards, she highlighted the film Paris Is Burning and the work that many other Black and Brown LGBTQ+ have done by saying, "I want to do what we as society should have done a long time ago — and that's give them the glory and shine they deserve."
Brielle "Tati" Rheames & The Cast of My House
While Brielle "Tati" Rheames might feel like she's "just a regular person," her persona and talent have encouraged a legion of Black and Brown LGBTQ+ individuals to follow in her footsteps this year. Her appearance on VICELAND's My House — which highlights the experiences of Black and Brown LGBTQ+ voguers seeking family in the New York ball scene — gives a great insight into the various ups and downs of Black and Brown LGBTQ+ lives. Tati, a talented voguer who is well known for her fierce tenacity and free agent status, doesn't just walk the walk, but dances in it as well. "Since the show's premiere I have been getting so much positive feedback," she told Viva, noting that it has been both encouraging and somewhat overwhelming. She later told Vibe: "I know I have my flaws but my flaws are what make me unique; that's more of what makes me precious. That's the most beautiful imperfection in the world." Tati and her story are a great reminder to us all that there's so much beauty in being different and even more beauty in being seen.
Steven Canals & The Cast of Pose
A writer, co-creator, and co-producer, triple threat Steven Canals is showing us that the narratives of Black and Brown LGBTQ+ people can be both aspirational and hopeful. With the widely successful show Pose, Canals modeled a way to use our privilege to uplift the voices of transgender women. "My hope is that our audience recognizes the beauty and the breadth of both the trans and queer experience," he told Towleroad, mentioning that we all have responsibility to help raise the visibility of the experiences of trans women. By casting not one, but five transgender Black and Brown women to lead the show, both Canals and Pose are doing exactly that, changing the way we think about these stories and why they should be celebrated.
Touted as the most ambitious pop album of 2018 by Billboard, MNEK's debut album, Language, assured other Black and Brown LGBTQ+ individuals that being queer doesn't have to be a sob story. Explaining in several interviews that he refuses to be boxed in by labels, as both a queer and Black person, MNEK is also working to show a different side of black masculinity in a way that is inclusive of LGBTQ+ people. As noted in both his writing and in songs on his album, MNEK is invested in showing the duality that lives between the intersections of race and sexuality. Through his music, he's hoping to normalize these discussions while reminding folks that being both Black and queer is in fact a new normal.
Angela Jude, Lo Calsada & The Cast of House of Mamis
Giving more voice and agency to the queer Latinidad, both creators Angela Jude and Lo Calsada are showing us what resilience and joy looks like with their documentary, House of Mamis. Covering topics related to transphobia and inclusivity in ball and house culture, as well as what it means to be queer and Latinx in this current political moment, the show focuses on the everyday struggles that still exist for Brown LGBTQ+ individuals. Beyond the remarkable stories shared in the documentary, it's a great example of the intersectional experiences Black and Brown LGBTQ+ people face.
Ending the year on a both bold and beautiful message of visibility and inclusion, we saw the world's first transgender Miss Universe make history. As the first trans woman to participate in the pageant since the 2012 reversal of a longstanding policy that entrants must be "naturally born" women, her appearance on the show highlighted the need for a more inclusive world. By taking issue with the classification of Latinx trans people and challenging this administration's policy on gender identity, Ponce's involvement with this year's event reminded us of why visibility is so important — particularly in a time where trans women are being murdered in a record number. "You can empower yourself like I have and turn something negative into your biggest strength," she said, stating that the only way to change the world is to teach everyone the importance of diversity and inclusion globally. "We can create a new generation of human beings who are raised a lot better, more tolerant, and respectful."