'The Hills' Is Returning With 'New Beginnings'
The rest is 'still' unwritten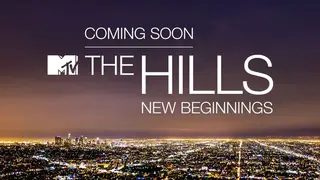 If you had any doubts, the rest is still unwritten.
It's official: The Hills is returning to MTV. According to the network, The Hills: New Beginnings will reunite original cast members, alongside their children and friends, and follow their personal and professional lives as they reside in Los Angeles. With new faces in the picture and returning favorites, The Hills is back for a new beginning.
Audrina Patridge, Heidi Montag, Spencer Pratt, Stephanie Pratt, Justin Bobby, Frankie Delgado and Jason Wahler gathered together at the VMAs (as seen above) -- and shared an announcement regarding the program was imminent. Meanwhile, a teaser of the brand-new program just debuted during the live show -- and if this clip, which is reminiscent of the series' opening credits with sparkling scenic views of the City of Angels, doesn't make you "feel the rain on your skin," nothing will.
Share your thoughts about The Hills: New Beginnings (which is coming soon!), and stay with MTV News for more Hills-related updates!