The First Reactions To Marvel's 'Revolutionary' 'Black Panther' Are Here
Some are already calling it the 'best MCU movie ever'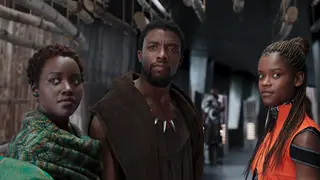 Earlier this week, Marvel transformed the Dolby Theatre in Los Angeles into Wakanda for the world premiere of one of its most anticipated films ever: Ryan Coogler's Black Panther.
Although proper reviews are being held closer to the February 16 release of the latest superhero title, the social media embargo for the film was lifted shortly after the world premiere screening — and those lucky enough to see it with the entire cast in attendance have been tweeting up a storm about Coogler's "revolutionary" film.
Entertainment Weekly contributor ReBecca Theodore-Vachon called Black Panther "by far the best-looking [Marvel Cinematic Universe] film," adding that "Ryan Coogler has changed game for MCU." (Rachel Morrison, the first female Oscar-nominated cinematographer, reunited with Coogler for Black Panther.) Los Angeles Times writer Tre'vell Anderson described the film as a "love letter about blackness." Meanwhile, Michael B. Jordan's villain Killmonger and Letitia Wright's Shuri also earned high praise.
Of course it shouldn't come as too much of a surprise that the first major superhero film directed by a black man and starring a predominantly black cast is a new benchmark for representation and storytelling. Check out some of the early Black Panther reactions below — and, no, it's not post-premiere hyperbole.
"The best MCU movie ever."
It's Marvel's "best-looking" film.
"The James Bond of the MCU."
It's a film with a lot of things to say.
It's a "new start" for the MCU.
Michael B. Jordan's Killmonger goes deep.
The women of Black Panther rule.