How Women Ruled The 2018 Oscars
From Time's Up to Tiffany Haddish and Maya Rudolph, women reigned supreme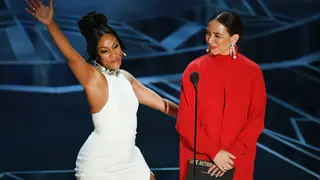 Bolstered by the Time's Up and #MeToo movements, women have led the conversation this awards season, starting with the red carpet blackout at the Golden Globes and ending with the Oscars, a night dominated by women.
Time's Up's presence is still strong
There may not have been an official sartorial component, but Time's Up was still seen and heard on Hollywood's biggest night. A smattering of pins accented the looks of Jane Fonda, Sam Rockwell, Steven Spielberg, and more. Ashley Judd and Mira Sorvino — two driving forces behind the movement's beginning — made a statement of their own by walking the red carpet together, telling ABC that "this movement isn't stopping" and highlighting that the legal defense fund has raised over $21 million since Time's Up formed at the beginning of this year. Judd later joined Salma Hayek and Annabella Sciorra on the Oscars stage to introduce a segment dedicated to the movement that celebrated this new path we are all on and spotlighted the diverse filmmakers being honored.
Lupita Nyong'o and Kumail Nanjiani praise the Dreamers
Lupita Nyong'o had already made a splash on the red carpet by arriving hand-in-hand with her badass Black Panther co-star, Danai Gurira, but she took things one step further when she stepped on stage to present the award for Best Production Design with Kumail Nanjiani.
Reminding the audience that they are both immigrants themselves, Nyong'o said, "Like everyone in this room, and everyone watching at home, we are dreamers. We grew up dreaming of one day working in movies. Dreams are the foundation of Hollywood. And dreams are the foundation of America."
Nanjiani added, "And so, to all the dreamers out there, we stand with you."
This not-so-masked shoutout to all of the DACA recipients whose futures have seemed uncertain ever since President Trump ended the program in September did not go unnoticed, and fans, including Olympic figure skater Alex Shibutani (one-half of the Shib Sibs) called for the duo to host next year's ceremony.
Allison Janney wins her first Oscar
Heading into the Oscars ceremony as a first-time nominee after almost three decades in the business, Allison Janney seemed nervous, humbled, and happy to be there. When she walked up to the podium to accept her Academy Award, the first words that followed were anything but. "I did it all by myself," she said with a slight smirk.
The moment of comic relief was, well, a relief. During a ceremony punctuated by commentary on the very important issues that have been dominating our public conversations, Janney's six words gave the audience exactly what we needed: laughter. And with that, she owned the room.
Of course, Janney went on to say, "Nothing further from the truth," and thanked a series of people who helped her reach this major moment.
Tiffany Haddish and Maya Rudolph steal the show
Tiffany Haddish and Maya Rudolph were only tasked with presenting the awards for Best Documentary Short Subject and Live Action Short Film, but the comedians tacked on a quick comedy set while they had the mic.
Their perfectly matched wits served jokes about their painful shoes (which they had already taken off), the Oscars being "too black now," and people with clipboards before raving about each other's funniest scenes in Haddish's Girls Trip and Rudolph's Bridesmaids.
The two women had every A-lister in the audience hanging on to their every word and laughing at every beat, while fans everywhere were calling for them to host next year's Oscars and do a movie together STAT. Lucky for all of us, Haddish will be hosting the 2018 MTV Movie & TV Awards on June 18.
Best Actresses dominated the prestige acting categories
After 2017 Best Actor Casey Affleck stepped down from presenting at this year's ceremony, the Academy decided to shirk tradition entirely and enlisted four previous Best Actress winners to present both the Best Actress and Best Actor categories, with Jennifer Lawrence and Jodie Foster presenting the former, and Jane Fonda and Helen Mirren the later.
Selecting four women to do the honors rather than one woman and one man was a powerful reminder of the important contributions of the so-called fairer sex — and that was only made more pronounced by the parade of Best Actresses we saw presenting throughout the night, including Emma Stone, Nicole Kidman, and Sandra Bullock.
Best Actor nominee Timothée Chalamet captured on his Instagram Stories what may have been one of the sweetest moments involving a group of women all night: a huddle in which the Best Actress nominees — including Saoirse Ronan, Margot Robbie, Sally Hawkins, and Meryl Streep — huddled together in the front of the room after winner Frances McDormand's acceptance speech. Although there was no audio of the conversation that took place inside the tight circle, it looked like a pep talk of love and admiration shared among women who genuinely support other women.
Frances McDormand introduces the world to Inclusion Riders
For McDormand, accepting this year's Best Actress Oscar wasn't just about herself — it was about every single woman in Hollywood. After a brief list of thank yous, McDormand did something "for perspective" that had never been done in 90 years of Academy history.
"If I may be so honored to have all the female nominees in every category stand with me in this room tonight," she implored, inviting the biggest round of applause of the night.
McDormand went on to tell everyone to look around and remember that these women — many of whom made history with their nominations alone, including Greta Gerwig, Mary J. Blige, and Rachel Morrison — have more ideas and are open for business, before leaving everyone with just two words, "inclusion rider," which is essentially a contract clause that mandates a certain percentage of women and other minorities work on a project.