Fifth Harmony Forecast: How Each Member Is Poised To Dominate 2019
Lauren, Ally, Normani, and Dinah used this year to lay the foundation for their solo breakthroughs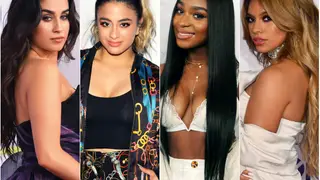 While Camila Cabello continues to forge a commanding path — this year alone, she notched a No. 1 album and No. 1 song, won the top prizes at the VMAs, opened for Taylor Swift on tour, and earned two Grammy nominations — her former bandmates are working on their own albums. Below, see how each of them laid the foundation for their solo debut, and find out what lies ahead for them in 2019.
How she defied "Expectations" in 2018: The first taste of Lauren's solo slayage came in June, when she opened a few dates on her pal Halsey's tour. Those sets previewed the diverse material Lauren had been working on, including her fiery closing song, "Expectations." The smoky jam arrived in October as her official debut solo single, and came accompanied by a cinematic video in which Lauren unleashed both her angelic and devilish sides. She continued to show fans her true colors with a slew of stunning magazine spreads — including Playboy, Galore, and LADYGUNN — and even took home a pair of Teen Choice Awards: Choice Female Hottie and Choice Electronic/Dance Song for her Steve Aoki collaboration, "All Night."
What's next for 2019: She's teased "much more to come" next year, which you can bet means her debut solo album is on the way. In an interview with Nylon (yet another mag she covered this year), the 22-year-old revealed plenty of tidbits about the impending LP: she wrote every song, some tracks pay tribute to her Latin roots, she sings romantically about both men and women, and it all stems from her own, singular perspective.
How she wrote a new chapter in 2018: Judging by the year she's had, Ally may be the most versatile of the 5H ladies. The 25-year-old appeared as herself on an episode of Famous in Love in the spring, but we didn't hear anything on the music front until August, when news broke that she had joined the roster at Atlantic Records. Her first release was the Latin-tinged banger "Vámonos," a Spanish-language collaboration with Dutch production trio Kriss Kross Amsterdam and Dominican trap rapper Messiah, who joined Ally in performing the track at the ALMA Awards in November. Not long after, Ally got into the holiday spirit with a cover of Wham!'s "Last Christmas" — which she performed at the famed Macy's Thanksgiving Day Parade — and then surprised fans by announcing that she was writing a tell-all memoir. Acting, singing, writing... Ally's talents know no bounds.
What's next for 2019: That memoir, entitled Finding Your Harmony, hits bookshelves on April 2, 2019. But aside from penning tales about her childhood and her 5H days, she's also been writing plenty of new music. In September, she posted pics from an all-female writing camp she hosted, revealing that she's been "creating amazing music" with female writers, producers, and engineers. "Been pouring out my soul," she wrote. "I can't wait for y'all to hear."
How she made "Waves" in 2018: Normani has always fancied herself a mini Beyoncé, and her solo moves this year prove she's on the right track to making that lofty goal a reality. A month before 5H announced its hiatus, Normani released "Love Lies," a collaborative slow jam with Khalid that's become a monster hit. A steamy music video and a few killer live performances later, the song topped the Billboard Mainstream Top 40 chart and even reached the top 10 on the Hot 100. That paved the way for Normani's slew of fresh releases and features over the past few months. Among them (deep breath, please): a pair of tracks with Calvin Harris ("Checklist" and "Slow Down"); a verse on Jessie Reyez's "Body Count (Remix)" alongside Kehlani; a feature on Quavo's "Swing"; and her own R&B single "Waves" with 6LACK. Oh, and on top of all that, she was affectionately dubbed "that bitch" by Nicki Minaj at the 2018 VMAs.
What's next for 2019: Just joining one of the most hotly anticipated tours of the year; no big deal. Normani has been booked as the opening act on the North American leg of Ariana Grande's massive Sweetener World Tour, hitting arenas in the spring. No word yet on whether or not her debut album will arrive before that, but it definitely sounds promising — she recently revealed that she hit the studio with one of Grande's go-to producers, Pharrell, and told Paper that she's "really hands on in every single aspect" of her new music.
How she unbottled her potential in 2018: After celebrating her 21st birthday over the summer, Dinah kickstarted her new year by dropping "Bottled Up," an effervescent collaboration with Ty Dolla $ign and Marc E. Bassy. The trio performed together on The Tonight Show and then joined forces for a glossy, neon-lit video that snatched scalps. And just when fans thought "Bottled Up" would be the only solo Dinah material they'd hear in 2018, she debuted a pair of new songs at Jingle Ball in early December: "I Don't Mind" and "Retrograde," the latter of which is rumored to be her next single.
What's next for 2019: The same as her other bandmates: a new album! Dinah has reportedly been working with songwriters Priscilla Renae (5H's "Work From Home") and Mozella (Miley Cyrus's "Wrecking Ball"), and she recently teased her sonic direction as "urban R&B meets '90s to 2000s." Hopefully she doesn't keep that music bottled up for too much longer.