20 'Animal Crossing' Memes That Are Just As Good As The Game Itself
They involve Drake, Squidward, and even Guy Fieri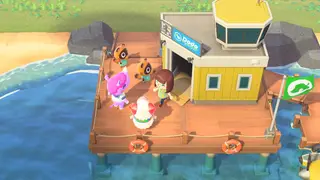 Now that we've been social distancing for a hot minute, we can officially say what we've all been thinking: It's really hard. In fact, you might be starting to feel like there aren't enough movies and TV shows in the world to keep you entertained right now. But there's one group of people who may have found the solution to our problems: Nintendo Switch owners.
In case you missed it, the highly anticipated game Animal Crossing: New Horizons officially came out on the Switch console last week. And ever since, social media has been ablaze with impassioned tweets about the game, which allows you to build a life on an island inhabited by cute animal friends. Players may also virtually travel to other people's islands and allow them to come to theirs as well. In other words, it's a way for gamers to hang out — even while self-isolating due to the COVID-19 pandemic.
But don't worry, you don't need a Switch to be able to get in on all the Animal Crossing fun. Thanks to some creative people on the internet, there are plenty of memes going around that'll make you feel just as involved. And while they might give you a little bit of FOMO, they're still an excellent — and safe — way to pass the time.
Remember the kid who went viral overnight after she interrupted her father's interview on BBC News? Well, she's having a resurgence. When one player noticed some similarities between that child and their own Animal Crossing experience, they put the two clips side by side. And yes, the resemblance is uncanny.
For Animal Crossing lovers, nothing is more important than moving ahead in the game. And no one seems to understand that better than the creator of this meme. Gone are the days of trying to find a significant other on the internet. These days, we identify solely as Animal Crossing islanders seeking 30 iron nuggets. Sorry, it's just how it has to be.
With non-essential businesses closing in many states across the United States due to the COVID-19 outbreak, many gamers are unsure about what that means for GameStop. Is their local store already closed? If not, how long do they have until the gaming retailer shuts its doors? Don't worry, they've got a plan B.
For a while, it seemed like the only thing we were hearing about was coronavirus. Fortunately, that all changed with the release of Animal Crossing. But in between all the chatter about the game and the virus, some other topics manage to bubble to the surface. Remember sports? What about Super Smash Bros.?
There really are two types of people who play Animal Crossing: Those who play honestly and wait for time to pass naturally, and those who do a bit of time travel to get ahead. And honestly, this meme says more about that than we ever could.
We know the game has only been out for a few days so far, but already, players have been getting really creative. Need proof? This player brilliantly recreated scenes from Robert Eggers's The Lighthouse, which is clearly a great use of their time in quarantine.
If you're not playing Animal Crossing yourself, you wouldn't know that weeds are actually a pretty hot item that you can sell for a lot of bells (the island's currency). Needless to say, after collecting thousands of weeds and catching a single fish (because damn, fishing is hard), you'll feel more confident than ever walking into Nook's Cranny to sell your items.
As we've already established, fishing is hard — especially in Animal Crossing. And if you've tried it yourself, you understand the stress that comes with possibly clicking A and taking your rod out of the water too early. Thought fishing was relaxing? Not anymore!
TikTokers know all about the "Respect the Drip" meme, which is just another way to say respect someone's swag. There are currently thousands of videos on the social media platform with users performing their own versions of the trend while wearing exotic outfits. And now, the viral trend has made its way off TikTok and onto Animal Crossing, and who's complaining? Not us!
Fishing might be difficult in Animal Crossing, but there are still a lot of sea creatures to catch. You might even catch a shark, and well, we'll let the above meme do the talking.
Lately, toilet paper has been hard to come by, with shoppers stocking up in preparation for self-isolation. And in Animal Crossing, it appears it's no different. Thanks for the warning, Timmy.
No Switch? No problem! Lots of people are currently contemplating whether to purchase the console solely for Animal Crossing. But while you decide, feel free to enjoy the memes because, as you can see, there are plenty of them.
Before the game even came out, fans of the Animal Crossing series were smitten. And no meme captures people's love for the game more than the one above. Even the game's advertisements gave people heart-eyes!
If you've been spending hours upon hours making sure your island is in tip-top shape, you should be proud. In fact, you should be just as proud as Drake in the above video clip. "Look around you," the rapper says. "Look at this. We created this. This didn't exist before we were here." Truer words have never been spoken.
Even before the coronavirus pandemic, many of us were largely unprepared to emotionally deal with 2020. Why? Because we're still trying to reconcile with years past. But alas, COVID-19 came in as quickly as Isabelle in a racecar, and the meme above pretty much sums up how we're all feeling right now.
Tired of owing so much money to raccoon businessman Tom Nook? You're not alone. The player above decided to hold Nook's son hostage until he cancels all their debts. And while that's certainly one way to go about it, we're actually pretty concerned for Timmy. Or is that Tommy?
Animal Crossing fans have been anticipating the release of the game for a long time now. In fact, many even pre-ordered a physical copy. Unfortunately, those who've been downloading the game digitally seem to be the ones who've had immediate access to the game. And the others? Well, they're the Squidwards of this situation.
Depending on how far you've made it into the game, you may have met Blathers, the director of the museum. Blathers studies many critters, including fish and insects. And this iteration of the viral "It's a Knife" Vine describes the character pretty well.
One thing Animal Crossing players were not prepared for was having to choose the name of their very own island. And although it might not seem like a ton of pressure at first, you should know that the name cannot be changed at any point, and that other players will see it, too. Yeah, we're going to need a few hours to think on it. Maybe even days.
Speaking of naming islands, one player seized the opportunity to name theirs after Guy Fieri's mythical land of "Flavortown." Then, in an act of friendship, another user offered them a pair of the chef and restauranteur's signature sunglasses. Unbelievable.